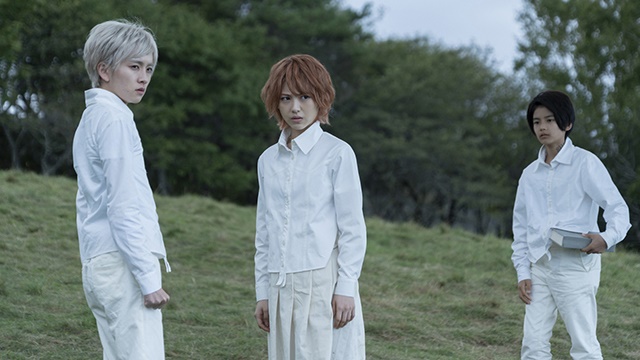 TOHO MOVIE's official YouTube channel has posted a 100-second PV for "Tadashiku Narenai" (I can't be right) performed by a Japanese rock group Zutto Mayonaka de Iinoni. / ZUTOMATYO. The song will be featured as the theme song for the forthcoming live-action film adaptation of Kaiu Shirai (story) and Posuka Demizu (art)'s dark fantasy shonen manga Yakusoku no Neverland / The Promised Neverland and the clip consists of various scenes from the movie, including newly-introduced ones.
The song will be released as the band's 10th digital single at 17:00 on December 17, 2020 (JST), which is one day before the film's release in Japan. The song's full music video will be also posted on the web at the same time.
20-year-old Minami Hamabe (Yumeko Jabami in Kakegurui), who is cast as the film's protagonist Emma, says, "The theme song 'Tadashiku Narenai' exactly depicts Emma and her friends who are resisting the environment. When I first heard the song, I felt like I had a clear view of the world of the live-action film. I can't wait to see the film that will be completed when the theme song is played at the end of it. Thank you for the wonderful music."
/
????映画 #約ネバ
スペシャルPV映像公開‼️
\#ずっと真夜中でいいのに。が歌う主題歌「#正しくなれない」のコラボPVが完成✨
????https://t.co/o4OwvGpHQt

本作の為に書き下ろした曲と作品の世界観が見事にマッチ❗️劇中の未公開シーンも必見!

初公開となる楽曲パートにもご注目ください⚡️#ACAね

— 『約束のネバーランド』公式 (@yakuneba_staff) December 5, 2020
The live-action film adaptation is directed by 47-year-old Yuichiro Hirakawa, who previously worked on the live-action film adaptation of Kei Sanbe's mystery manga Boku dake ga Inai Machi / Erased in 2016, on a screenplay penned by his Erased partner Noriko Goto. It is set to be released in Japan on December 18, 2020. 
90-second full trailer:
Main poster visual:
Main cast:
Emma: Minami Hamabe (19/Yumeko Jabami in Kakegurui)
Ray: Kairi Jo (13/Hiromi Sugita in childhood in Erased)
Norman: Rihito Itagaki (18/Another Kikai in Kamen Rider Zi-O)
Mom Isabella: Keiko Kitagawa (Sailor Mars in the Sailor Moon live-action TV show)
Sister Krone: Naomi Watanabe (32/comedian)
---
Source: TOHO MOVIE official YouTube channel 
© Kaiu Shirai, Posuka Demizu/SHUEISHA
© 2020 Movie "The Promised Neverland" Production Committe

Latest in Anime News by Crunchyroll!