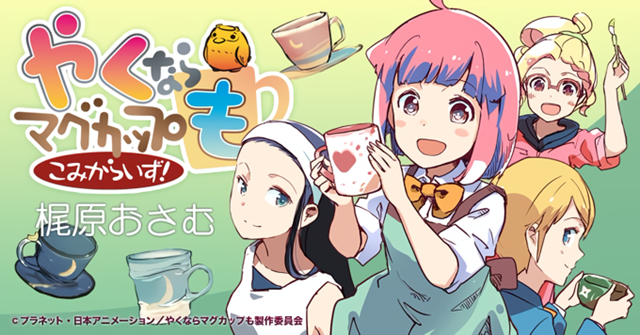 It has been confirmed that a comicalization of the forthcoming TV anime Yakunara Mug Cup Mo will be serialized in Akita Shoten's free web manga site "Manga Cross" from January 28, 2021.
The TV anime itself is based on the manga of the same name, which was launched in 2011 as part of the project by volunteers and companies in Tajimi-city, Gifu Prefecture, to revitalize the region. Meanwhile, the comicalization drawn by the original manga's illustrator Osamu Kajiwara is based on the story of the TV anime. The TV anime's director Jun Kamiya explains on Twitter, "It will be comicalized by the original author based on the work adapted for broadcast by us, the animation staff, which is based on the original manga by Kajiwara-san and others."
One of the four main voice cast members, Minami Tanaka (Himeno Toyokawa) says, "There are some descriptions that are a little different from the anime and the original manga, which made me very excited to read it too! I hope you'll keep an eye on Himeno to see what kind of world she'll see in the future, and how she'll grow up with the members of the pottery club who are all full of uniqueness." 
【コミカライズ連載決定????】
ウェブコミック無料配信サイト「マンガクロス」にて、1月28日(木)10:00より連載スタート????

『やくならマグカップも』の世界観をお楽しみください????

さらに、4人のメインキャストから喜びのコメントが到着しました~????

????https://t.co/Deu8qONXYI#やくもtv pic.twitter.com/17XUXWKyXV

— TVアニメ&実写『やくならマグカップも』公式 21年4月TV放送! (@yakumo_project) January 23, 2021
---
Yakunara Mug Cup Mo is set to premiere on CBC, TOKYO MX, and MBS in April 2021. It consists of two parts: the first 15 minutes is the animation, and the second 15 minutes is the live-action part. Nippon Animation works on anime production in cooperation with Tajimi-city and Tajimi-city Touring Association. In the live-action part entitled "Yakumo no Houkago / after school of YAKUMO," the anime's four main voice cast members introduce the charm of the city.
Main voice cast: 
Himeno Toyokawa: Minami Tanaka (Lily Hoshikawa in Zombie Land Saga)
Mika Kukuri: Yu Serizawa (Mirei Minami in PriPara, Ueno in How Clumsy you are, Miss Ueno)
Naoko Naruse: Yuuki Wakai (Reona West in PriPara, Maria von Messina in Wise Man's Grandchild)
Toko Aoki: Rina Honizumi (Saaya Yakushiji/Cure Ange in Hugtto! PreCure)
Introduction:
The city of Tajimi, located in the southern part of Gif Prefecture, Japan, is famous for Mino earthenware. The city is dotted with historical pottery producers and ceramic art museums. It has facilities where you can try your hand at making pottery, and many restaurants that serve food on Minoware dishes. The story begins when a high school girl moves to a shopping street in Tajimi. Many encounters await her, friends, town folk, ceramic art, etc. What will she discover in a town famous for ceramic?
Teaser visuals: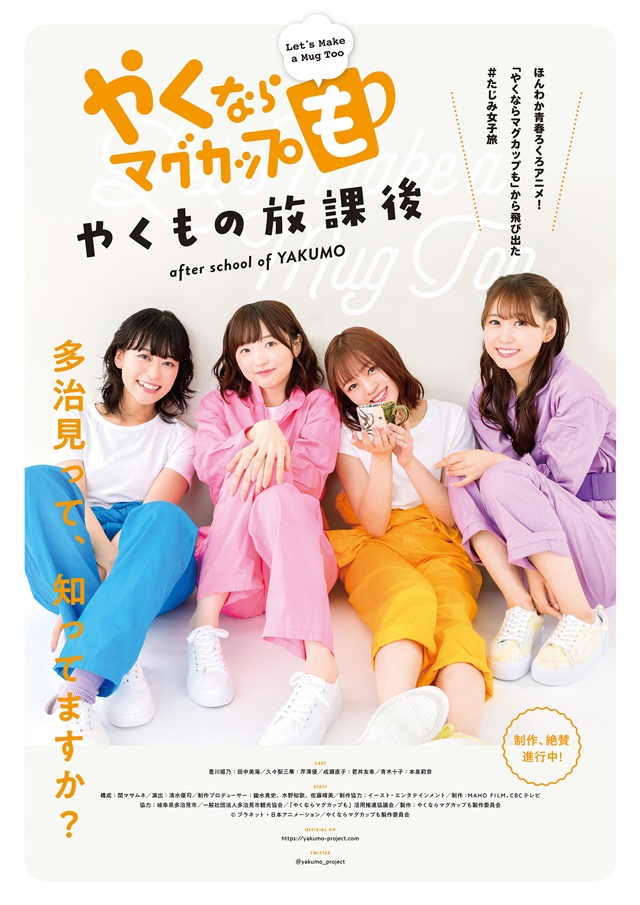 ---
Source: TV anime "Yakunara Mug Cup Mo" official website / Twitter
Copyright (c) 2016 Genkina Tajimi Co.,Ltd. All right reserved.

Latest in Anime News by Crunchyroll!