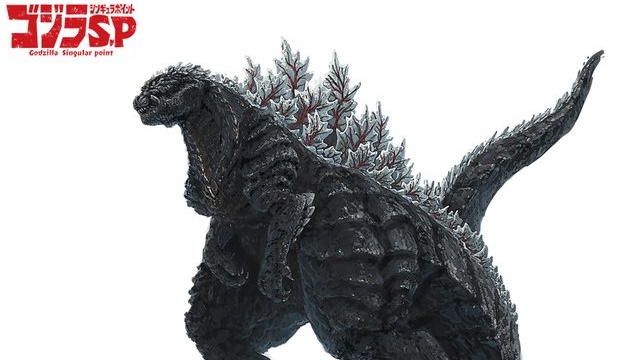 The official website for Godzilla Singular Point, the upcoming all new anime series inspired by Toho's Godzilla tokusatsu film franchise, unveiled a design art of the new Godzilla.
Godzilla and the other monsters that appear in Godzilla Singular Pont were all deigned by Eiji Yamamori, an animator who has worked on many Studio Ghibli films, such as Princess Mononoke and Spirited Away. This Godzilla visual is colored by Yuji Kaneko, who also works on this anime's concept arts and has worked as an art director for various works including Little Witch Academia and Kill la Kill. 
【"ゴジラ"デザイン画、解禁。】

TVアニメ『ゴジラ S.P<シンギュラポイント>』の #ゴジラ が解禁! 本作怪獣デザインの山森英司さんによるデザインに、コンセプトアートの金子雄司さんが着彩したビジュアル!

4月TV放送開始/Netflixにて全世界独占配信(日本先行)#ゴジラSPhttps://t.co/cB80yRAvft pic.twitter.com/cC97gYJhAv

— ゴジラS.P<シンギュラポイント> 公式 #ゴジラSP (@GODZILLA_SP) February 12, 2021
Comments from Eiji Yamamori:
-How did you feel when you were offered the job of designing the kaiju for this anime?
"It was like, 'Is it really okay for me to do this?' I have a fair amount of confidence in my kaiju designs, but I'm not a well-known designer and I have almost no experience. I am very grateful to have been selected for this project. I'm so honored that I still feel like I'm dreaming."
-What kind of thoughts and ideas did you have while creating the kaiju designs?
"Since it was a CG project, I tried to create a skeleton that would be impossible for kigurumi (monster suits with actors in it) , and I tried to create a huge creature that was not biologically strange. In addition, I went back to the basics and redesigned from the original motifs, and also included homages to the Toho kaiju of the past."
-What were you particular about in designing the Godzilla that was revealed this time?
"The most important thing was to keep in mind the design motif of the original Godzilla, and to give it the dignity of an awesome creature that can never communicate with mankind. I tried to integrate the image of the early Showa Godzilla, but still give it a new look that has never been shown before."
-Please give a message to those who are looking forward to the broadcast.
"I believe that the Godzilla that I, as a kaiju lover, wanted to see is the Godzilla that you also wanted to see. Please enjoy the kaiju rampaging around in a way that only animation can express, which is different from tokusatsu."
Godzilla Singular Point will be broadcast on TOKYO MX and other stations in Japan from April 2021, and will be streamed on Netflix Japan first, then worldwide later. 
2nd teaser trailer:
Key visual: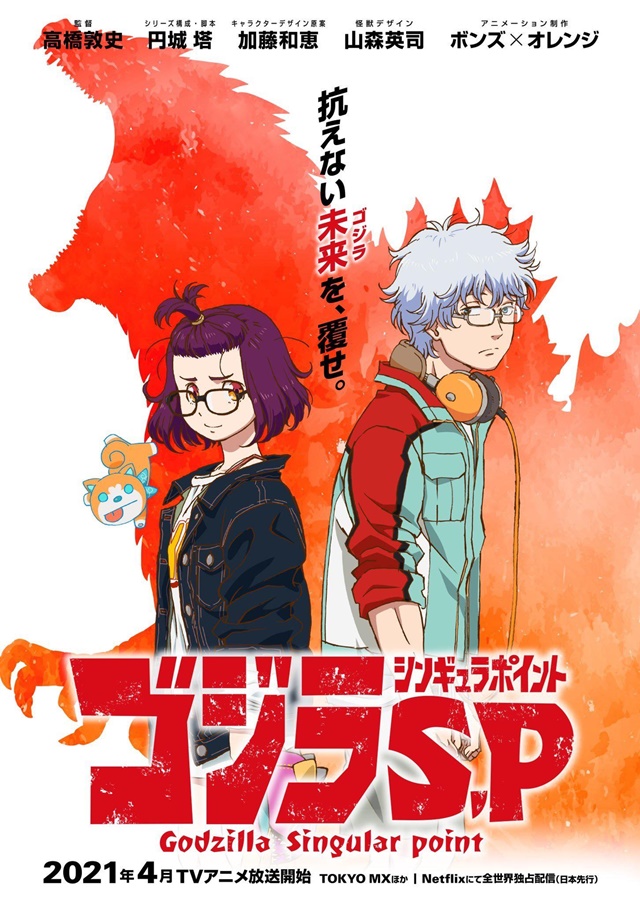 ---
Source: "Godzilla Singular Point" official website / Twitter
©2020 TOHO CO., LTD.

Latest in Anime News by Crunchyroll!