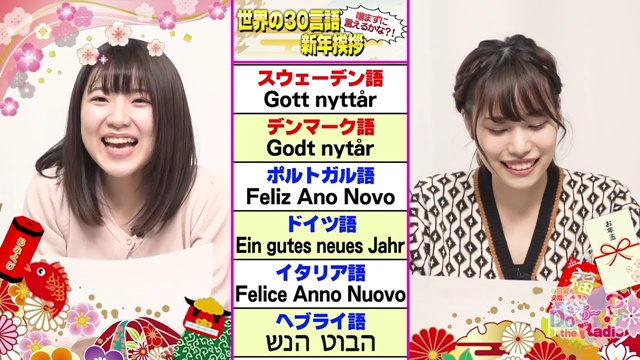 As the first challenge project of 2021 for their web radio program "Do Yu No the Radio," voice actress Nozomi Kasuga (the voice of the virtual YouTuber Kizuna AI) and Yukari Anzai (Tiara in Lapis Re:Lights) deliver New Year's greetings in 30 languages from English to Hungarian to voice actor fans around the world.
The title of the program is based on the two's nicknames, "Yu-chan" (Yukari Anzai) and "Non-chan" (Nozomi Kasuga), as well as the English phrase "Do you know?." The (self-proclaimed) industry's first multi-language program has been streamed on the official YouTube channel of Pony Canyon's anime shopping site Canime and the major Chinese video site bilibili since September 2020.
The 30 languages they challenge are English, French, Greek, Spanish, Swedish, Danish, Portuguese, German, Italian, Hebrew, Swahili, Mandarin, Cantonese, Russian, Farsi, Kurdish, Korean, Thai, Tagalog, Hawaiian, Indonesian, Malay, Finnish, Norwegian, Dutch, Vietnamese, Mongolian, Arabic, Turkish, and Hungarian. The full-length episode including this challenge will be available on January 8.
---
Source: Pony Canyon press release
©2020 PONY CANYON INC.

Latest in Anime News by Crunchyroll!