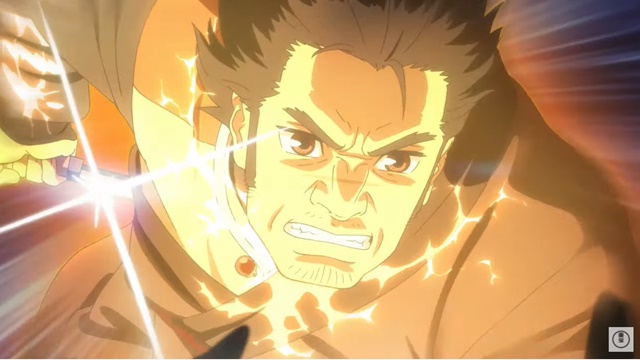 Toho's official YouTube channel has started streaming a 30-second teaser trailer for Shika no Ō: Yuna to Yakusoku no Tabi / The Deer King: Yuna and the Promised Journey, the forthcoming anime feature film adaptation of Nahoko Uehashi (Moribito series, The Beast Player)'s fantasy novel series Shika no Ō / The Deer King, to announce its new release date of September 10, 2021. The film was originally slated for September 18, 2020, but has been postponed for one year due to various circumstances.
The clip also introduces the film's three main characters and their voice cast – Shinichi Tsutsumi (Katakuriko Matsudaira in Gintama live-action film) as Van, a lonely warrior who survives a mysterious disease that leads to death, Ryoma Takeuchi (Kamen Rider Drive) as Hohsalle, a genius doctor who searches for a cure for the disease, and Anne (Oei in Miss Hokusai) as Sae, a skilled female warrior who is trying to track down Van. According to Anne, their voice recording session was held two years ago when the anime visuals were not completed yet. 
Teaser trailer:
Teaser visual: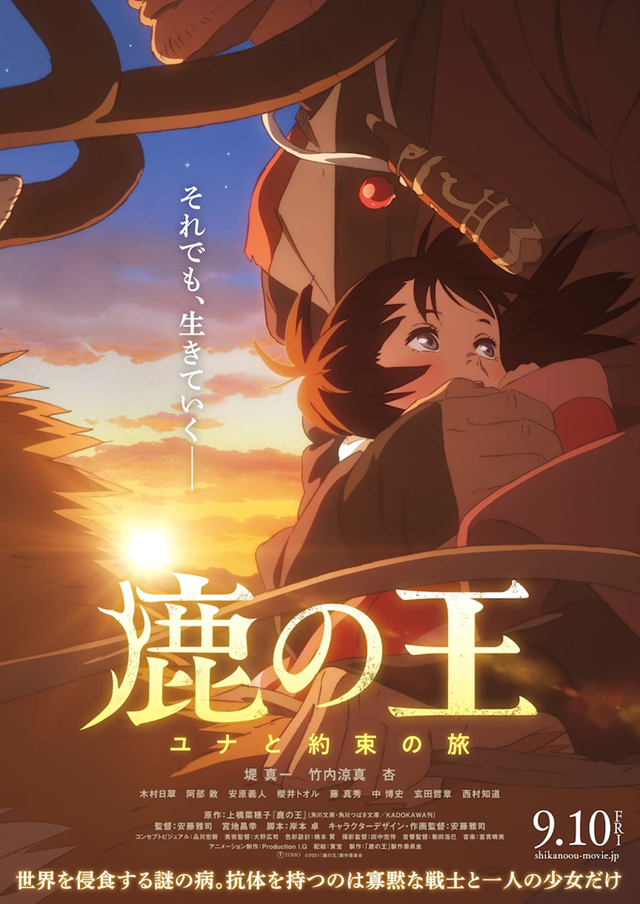 ---
Acclaimed animator Masashi Ando (Princess Mononoke & Spirited Away animation director, Your Name. character designer/animation director) makes his directorial debut, alongside co-director Masayuki Miyaji (Fusé: Memoirs of the Hunter Girl). Taku Kishimoto (Haikyu!!) provides a screenplay, Production I.G (Ghost in The Shell, Miss Hokusai) works on anime production. 
The novel was originally released from KADOKAWA in two-volume hardcover edition in September 2014, then re-released as four-volume bunko edition in June-July 2017. The series won the Booksellers Award and the fourth Japan Medical Novel Award in 2015, and has printed 1.9 million copies in Japan so far. And its third volume Ninasoko no Hashi (The bridge in the bottom of the water) was released on March 27, 2019.
The author's official English site introduces its first two volumes' story as below:
1st volume: "Ikinokotta Mono (Survivors)"
The Lone Antlers, a band of death warriors, gave their lives to save their homeland from the empire of Zol. Van, their leader and the sole survivor, is enslaved in a salt mine. One night, savage dogs attack the mine, and soon after, a mysterious disease wipes out both the slaves and their keepers. Van, however, escapes with a little girl called Yuna.
2nd volume: "Kaette iku Mono (Returnees)"  
Someone has kidnapped Yuna, and Van sets off in pursuit. Meanwhile, Hohsalle, a gifted physician, searches for a cure for the disease that is spreading among the Zolian settlers. What path will these men choose to save their loved ones and the people of this land?
Original 1st and 2nd hardcover volume covers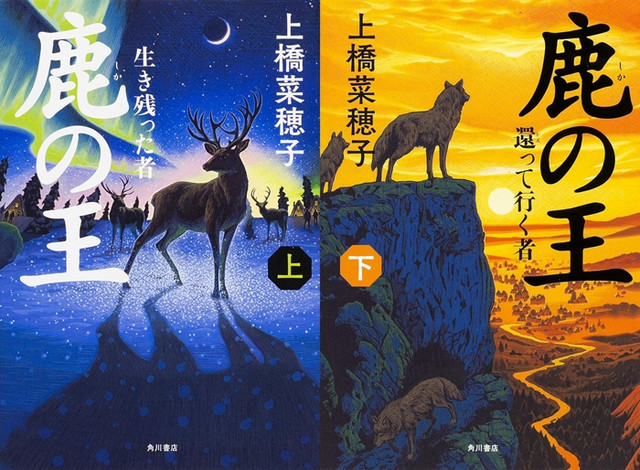 ---
Source: Eiga.com
(C)2021 "The Deer King" Production Committee

Latest in Anime News by Crunchyroll!