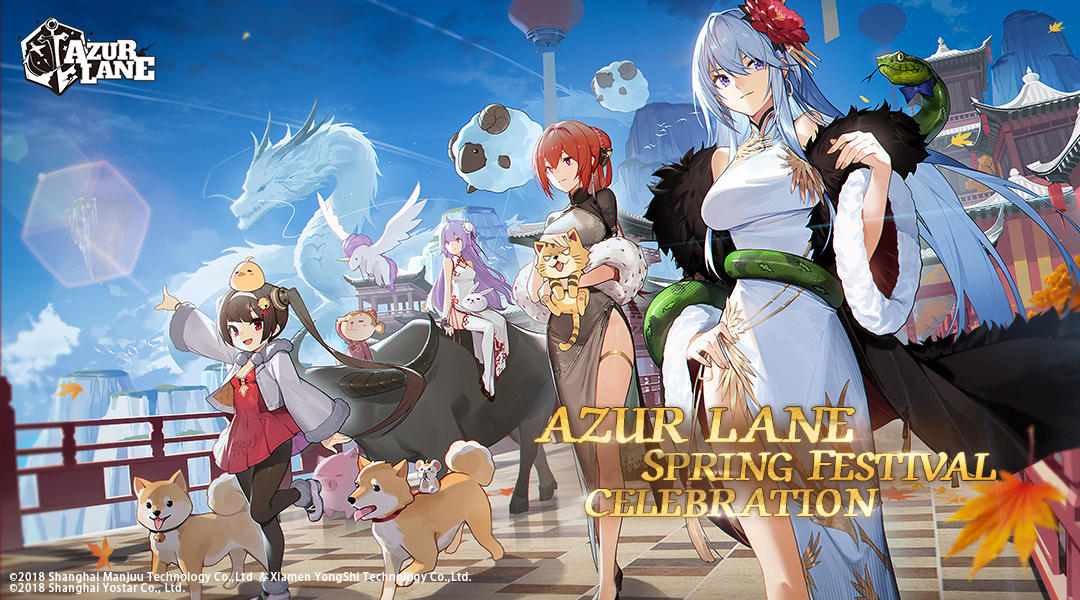 February 4, 2021 – Shanghai, China – Naval shoot-em-up mobile game, Azur Lane is celebrating the Spring Festival as the holiday approaches. This special celebration is bringing in 4 new Elite characters, a launch of 22 new Skins, and multiple mini-events that are all available for a festive vibe and a sincere holiday salutation to all players.
Download and play Azur Lane now!
Newly-released Elite Characters
For the Spring Festival Celebration this year, new characters Ying Swei, Chao Ho and Penelope are getting rate-up in the Light Construction Pool. U-410 can be obtained from a mini-event as a special reward for the holiday. Additionally, Dido, Biloxi, Gloucester, Kimberly, Mullany, and Halsey Powell will be permanently available in the Light Construction Pool.
Spring Festival 2021 Event PV
Spring Festival Mini-events with Rewards
There are 6 fun mini-events for the Lunar New Year. Fu Shun's Great Adventure II, Ying Swei's Spring Travels and Drawing Book mini-events will give Red Envelopes which can be opened in Manjuu Resort to obtain various rewards including gems. Meanwhile, in the Spring Festival Invitation event, players are able to obtain 1 of the following popular characters: Taihou, Enterprise, Belfast, Ning Hai, and Ping Hai.
One Single Launch of 22 New Skins
4 New Live2D Spring Festival Skins for Cheshire, Glorious, Bremerton and La Galissonnière are here to greet the players. In addition to Live2D skins, a group of new festival skins are ready for Birmingham, Z46, Essex, Saint Louis and 12 other characters. The brand new Oath Skin, "Garb of Eternal Prosperity" for Aurora is available as well. 
To reward players and celebrate this holiday together, a complimentary Skin, "Snowy Pine's Warmth" for Ying Swei is obtainable. On top of that, players will receive 2 outfits rental vouchers which they can use to try out 3 Skins including "Cait Sith Crooner" for Cheshire, "Kung Fu Cruiser" for Bremerton, "Blossoming Grace" for Chao Ho.
Other Lunar New Year Specials
As for the store, the Lunar New Year Lucky Bag 2021 has been all set, and the Lunar New Year Lucky Bag 2020 returns. 2021 Spring Festival furniture, Spring Jubilee, and all previous launched Spring Festival furniture are also back in stock, including "Festive Reunion!" of 2020.
Follow Azur Lane
About Yostar Games
Founded in 2014 and publisher of Azur Lane and Arknights, Yostar Games specializes in game development, global distribution, investment, and video game IP management. Situated in Tokyo and Shanghai, Yostar Games has rapidly become the top publisher and developer of the anime genre in China and is striving to become a global leader in the gaming industry.
Latest in Anime News by Crunchyroll!