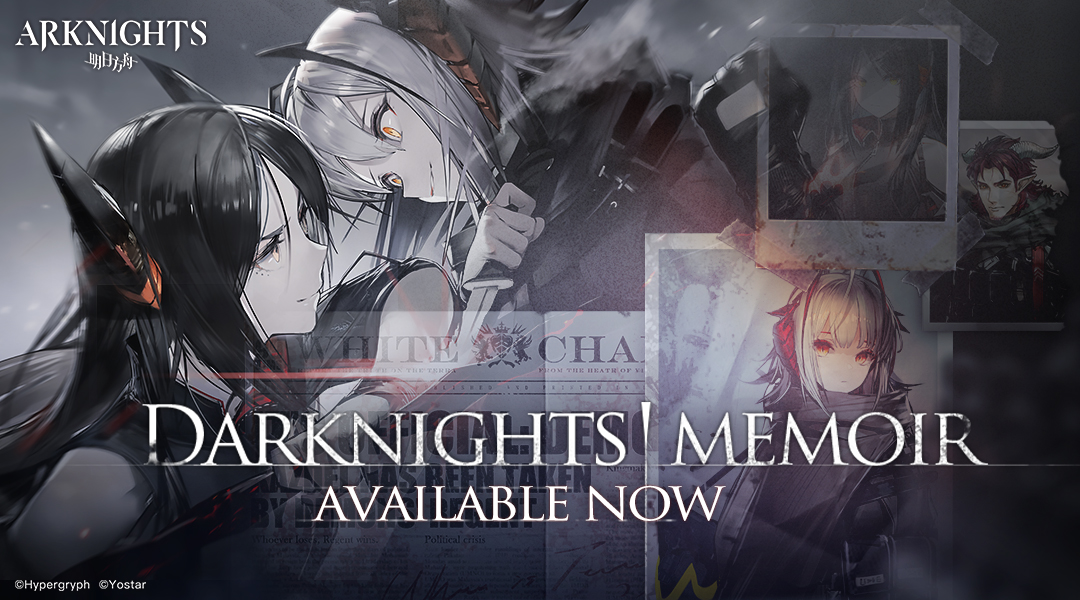 Dec 11, 2020 – Shanghai, China –  Arknights' brand new event — Darknights Memoir is available now, with four newly released operators added to the game, helping players to explore their unique gameplay styles and battle formations. This side story features an intriguing storyline of a past memory about W, engaging stages and event items, plus an event-exclusive operator, Sideroca.
Download and play Arknights now: Click here
About Darknights Memoir

The timeline of this side story is set before the game's main storyline. On the battlefield of Kazdel, W meets two other mercenaries and forms a squad, later, this independent mercenary team accepts a mission from an organization called "Babel" which incidentally changes their lives. The side story shows the unknown side of W and Babel which helps players to understand W's motive and actions, and also touches on the history of Rhodes Island.
Check out the Event Animation below:
Official Trailer:
Event Rewards

In this event, there are 8 normal stages, 6 EX stages and 1 additional stage. "Anonymous Tags" event items can be used to redeem materials, Furniture pieces and Sideroca's Token from the event shop, and can also be obtained by clearing these stages. Most of the enemies that players are facing this time are Sarkaz. As new types of enemies are make their way to the battlefield, players can enjoy the battle within this engaging side story. 
New Operators and Their Skills

With the launch of Darknights Memoir event, three new operators can be obtained through headhunting, and one from redeem. New 6 Star Specialist – Phantom, can be redeployed quickly after retreat. His Talent, Phantom in the Mirror, enables him to summon a clone with the same abilities and some of his attributes. 5 Star Supporter – Shamare, grants debuff to the enemies. 4 Star Guard – Cutter's normal attack deals damage twice. Her Talent restores her own SP when her normal attacks hit the enemies. 
An Event Bonus operator, which is only available in this event, is a 5 Star Guard – Sideroca, who deals Arts damage. Her Talent is that she gains more ASPD and Resistance after defeating a certain amount of enemies. Players can redeem her at the event shop. 
New Game Furniture

The event also offers new Furniture for a limited time only. Part of the new Furniture set, Seven Cities-style Restaurant, will be available at the in-game Store. To complete the set, which offers a different vibe for decoration, the rest of the pieces can be redeemed at the event shop during the Darknights Memoir event.
Follow Arknights
About Yostar Games
Founded in 2014 and publisher of Azur Lane and Arknights, Yostar Games specializes in game development, global distribution, investment, and video game IP management. Situated in Tokyo and Shanghai, Yostar Games has rapidly become the top publisher and developer of the anime genre in China and is striving to become a global leader in the gaming industry.
Latest in Anime News by Crunchyroll!