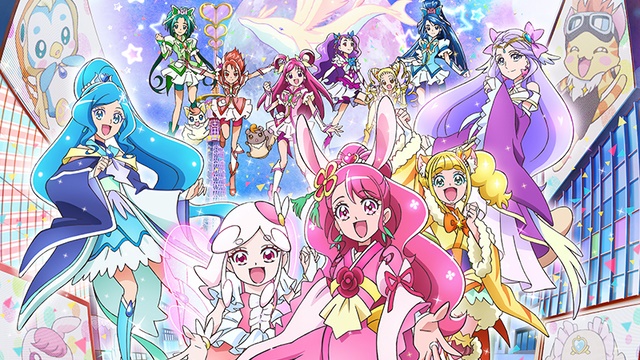 In addition to 22-year-old fashion model Nicole Fujita who will appear as herself, 16-year-old Seiran Kobayashi (Oriko Seki in Okko's Inn) and 61-year-old Masako Katsuki (Michiru Kaioh / Sailor Neptune in the Sailor Moon series) are confirmed to join the upcoming feature film Eiga Healin' Good PreCure Yume no Machi de Kyun! tto GoGo! Daihenshin!! (Healin' Good Pretty Cure The Movie: GoGo! Big Transformation! at The Town of Dreams).
Kobayashi is cast as the film's original character Kaguya, the princess of "Yume R," while Katsuki voices Sarena Gashuin, Kaguya's mother who invented the "Yume Pendant." This is the first time that Kobayashi has voiced a character in the PreCure franchise, and the third time for Katsuki, following Yami no Sekai no Majo / Devil in Futari wa PreCure Max Heart: The Movie (2005) and PreCure All Stars DX3: Deliver the Future! The Rainbow-Colored Flower That Connects the World (2011).
\????⏰❣️大ニュース❣️⏰????/
????????第二弾映画ゲスト声優決定????????
今回発表する映画ゲスト声優は‼️#カグヤ 役の声を
役者だけでなく声優としても活躍する#小林星蘭 さん❣️

そしてカグヤのお母さんである#我修院サレナ 役を#勝生真沙子 さんが演じます❣️#映画ヒープリ#precure pic.twitter.com/F3KprrTK40

— 『映画ヒーリングっど♥プリキュア ゆめのまちでキュン!っとGoGo!大変身!!』 (@precure_movie) February 16, 2021
Message from Seiran Kobayashi:
"Yes! PreCure 5" and "Yes! PreCure 5GoGo!" were the anime series that I was watching when I was a little girl, and PreCure has always been my dream, so I'm very happy to be in the same world as the members of "Yes! PreCure 5 GoGo!" in this "Healin' Good Pretty Cure The Movie." I'll do my best as Kaguya, the Princess of YumeR, to move someone's dreams and heart with the wonderful world and bonds that will spread in YumeR! I hope you will enjoy watching it.
Message from Masako Katsuki:
When I heard about the offer to work on this movie, I was surprised and very happy to be participating in a PreCure movie for the first time in ten years, and I was very excited and nervous every day until the recording day. I had the honor of working with Seiran Kobayashi-san, who played my daughter. I was inspired by her honest and straightforward expression of emotions, and I was able to actually feel Sarena Gashuin's stronger love for Kaguya as I acted. This is a film full of various kinds of love – love for friends, love for family, and love for others. "I want to help!" "I want to protect you!" These words that come out of such strong feelings will move people's hearts and make them act. These actions become bonds and strength, and people look forward to the next step in their lives. I would be happy if you could feel and see such a moment. And I thank you all.
---
The 29th PreCure film featuring a joint battle between the ongoing 17th series Healin' Good Pretty Cure and the fifth series Yes! PreCure 5GoGo! in 2008-2009 will open in Japan on March 20, 2021.
Trailer:
Poster visual: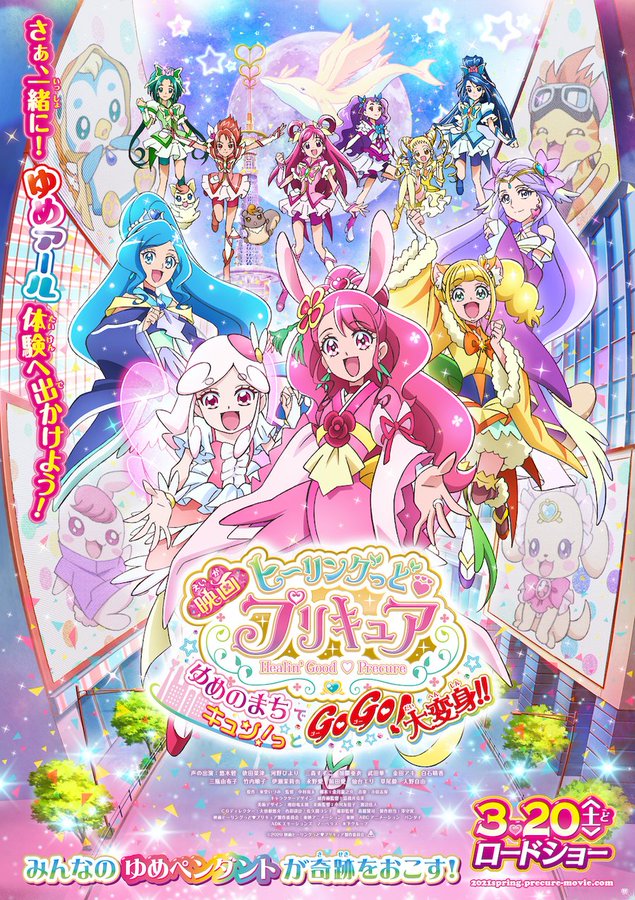 ---
Source: "Healin' Good Pretty Cure The Movie: GoGo! Big Transformation! at The Town of Dreams" official Twitter, Animate Times
©2020 Healin' Good Pretty Cure The Movie Production Committee

Latest in Anime News by Crunchyroll!