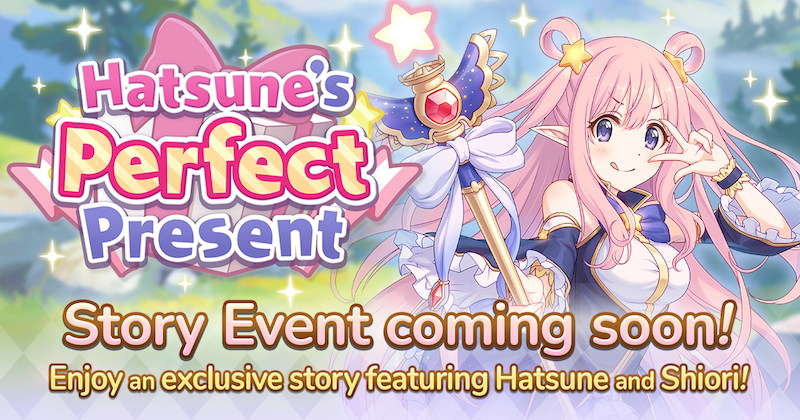 Heyas, Knights!
We have some exciting news for you! With the Clan Battle Beta still underway, we would like to take this time to give you a sneak peek of what's coming next. We know you're eager for more events, and that is exactly what we have planned!
What's coming up?
There are a handful of exciting things we'd like to highlight for you today, and we'll start in chronological order.
Event: Double Dungeon Drop
Period: 2/16 13:00 – 2/24 12:59 UTC
Details: During this campaign, the Mana that drops when clearing each level of a Dungeon will be doubled in quantity! This is a great opportunity to obtain the Mana you need to strengthen your characters! All Dungeons are included.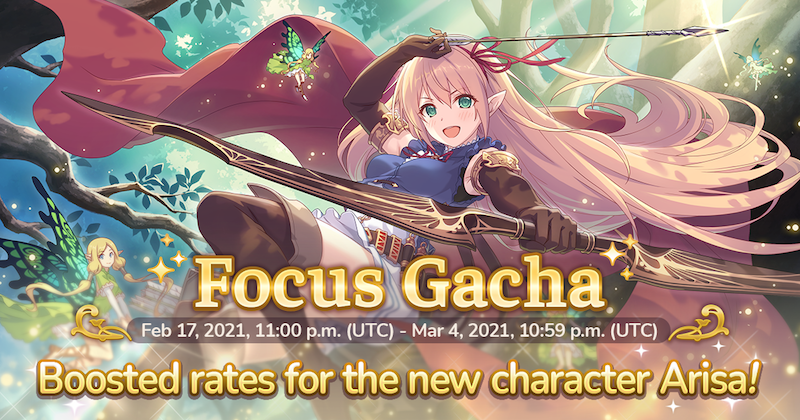 Focus Gacha: Arisa (VA: Kana Yuki)
Period: 2/17 23:00 – 3/4 22:59 UTC
Details: Meet Arisa, a heroine of Shadowverse and an aspiring forest guardian who excels at drawn-out battles from the rearguard. TP recovery allows quick use of her Union Burst, which also boosts skill effects for greater attack power. Her hobby is collecting pretty leaves.
Arisa will be our new Focus Gacha for 15 days from 2/17 to 3/4 UTC. 

Event: Hatsune's Perfect Present
Period: 2/17 23:00 – 3/6 22:59 UTC
Details: It's time for our first Story Event, featuring two of your favorite heroines: Hatsune and Shiori! In this event, you can clear exclusive quests and bosses to obtain a variety of rewards. As you progress through the event quests, you will also unlock an exclusive story to enjoy.
■ Boss Battles
This event features limited-time boss battles. You will need Boss Tickets to attempt each boss battle. Boss Tickets can be obtained from event login bonuses and event quests.
■ Victory Medal Gacha
When clearing event quests and defeating bosses, you can earn Victory Medals. You can exchange these Victory Medals for rewards, including Memory Shards and Jewels. 
■ Event Missions
This event features exclusive missions that come in two types: Daily Missions and Normal Missions. By completing these missions, you can earn rewards including Victory Medals and Memory Shards.
■ Event Login Bonus
The first time you open the event page during each day of the event, you will receive a bonus present of three Boss Tickets. This bonus resets each day at 1:00 p.m. (UTC).
 ■ Important Information
For more information on event quests, tap Help on the top-right of the event page.
To take part in event quests, you will need to have completed the Main Quest up to 2-12 (NORMAL).
Victory Medals and Boss Tickets earned in this event cannot be carried over to future events.
If you are in the middle of a battle when the event ends, the battle will continue until it is completed and any rewards are earned.
The event schedule and contents may be changed without warning.
Event: Grotto Double Drop
Period: 2/25 13:00 – 3/7 12:59 UTC
Details: During this campaign, all drops obtained by clearing EXP Quests and Mana Quests in the Grotto will be doubled in quantity! This is a great opportunity to obtain the Mana and EXP Potions you need to strengthen your characters!
Keep an eye out for our in-game notifications to learn more about each event! 
Lastly, we're excited to announce our first content update!
Content Update: 
Level Cap Increased from 80 to 85. 
Rank Cap Increased from 7 to 8.
Rank 8 Equipment Slots x3 now equippable.
Main Quest Area 9 opened.
Main Story Chapter 5, Episodes 1-3 unlocked.
Release Date: 2/17 23:00 UTC
See you all in Astraea!
— Crunchyroll Games
Latest in Anime News by Crunchyroll!