Along with a new teaser PV and a teaser visual, the official website for the trilogy anime film project Mobile Suit Gundam Hathaway announced today that its first part is newly set to be released in Japan on May 7, 2021. It was originally slated for July 23, 2020, but has been postponed due to the impact caused by the COVID-19 pandemic.
Kensho Ono, the voice of the protagonist Noa Hathaway, says, "Due to the effects of the new coronavirus, we've had to wait a while, but a new release date is finally decided! I can't wait for you all to finally see it. I hope you're looking forward to it!"
English description for the video:
"We have decided to premiere "Mobile Suit Gundam Hathaway" in theaters nationwide in Japan on May 7th, 2021 while we've been delaying its release under the circumstance of the global spread of COVID-19. Please wait for our further announcement regarding our release plans outside Japan."
New teaser visual: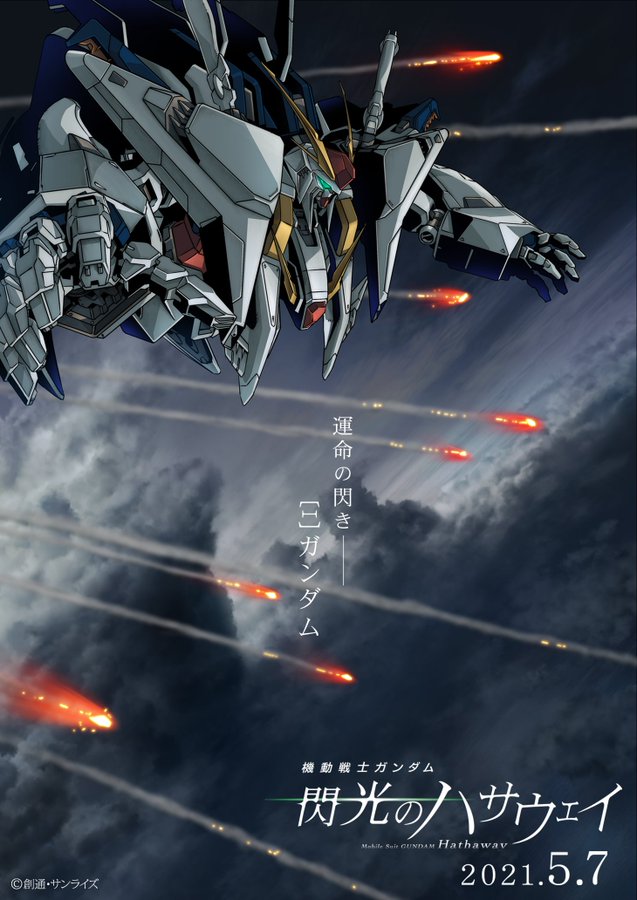 The trilogy is based on Yoshiyuki Tomino's Mobile Suit Gundam: Senkou no Hathaway / Hathaway's Flash novel published for three volumes from Kadokawa Sneaker Bunko from 1989 to 1990. According to Sunrise producer Naohiro Ogata, while the novel was written as a sequel to Tomino's 1988 novel Mobile Suit Gundam Char's Counterattack – Beltorchika Children (based on his rejected first draft for the 1988 film Mobile Suit Gundam Char's Counterattack), the upcoming anime will be produced as a sequel to the Char's Counterattack anime film.
【#閃光のハサウェイ 本格始動——】
ついにベールを脱いだ主人公ハサウェイ・ノア(マフティー・ナビーユ・エリン)の搭乗機"Ξ(クスィー)ガンダム"の設定画が初解禁!

『機動戦士ガンダム 閃光のハサウェイ』
2021年5月7日(金)全国ロードショーhttps://t.co/hACoaJ1jHB pic.twitter.com/7uUt54uJkU

— 機動戦士ガンダム 閃光のハサウェイ (@gundam_hathaway) November 12, 2020
Main staff:
Director: Shukou Murase (Gundam Wing character designer, Witch Hunter ROBIN director) 
Screenplay: Yasuyuki Muto (Mobile Suit Gundam Unicorn) 
Character design: pablo uchida, Naoyuki Onda, Shigeki Kuhara 
Original character design: Haruhiko Mikimoto (Macross series) 
Mechanical design: Hajime Katoki, Kimitoshi Yamane, Seiichi Nakatani, Nobuhiko Genma 
Original mechanical design: Yasuhiro Moriki 
Art director: Gouki Nakamura 
Color design: Takako Suzuki 
Director of photography: Kentaro Waki 
CG director: Takayuki Masuo, Tomohiro Fujie 
Editor: Daisuke Imai 
Sound director: Hiroshi Kasamatsu 
Recording director: Eriko Kimura 
Music: Hiroyuki Sawano (Mobile Suit Gundam UC, Attack on Titan) 
---
Source: "Mobile Suit Gundam: Senkou no Hathaway" anime official website / Twitter
(c) Sotsu, Sunrise

Latest in Anime News by Crunchyroll!