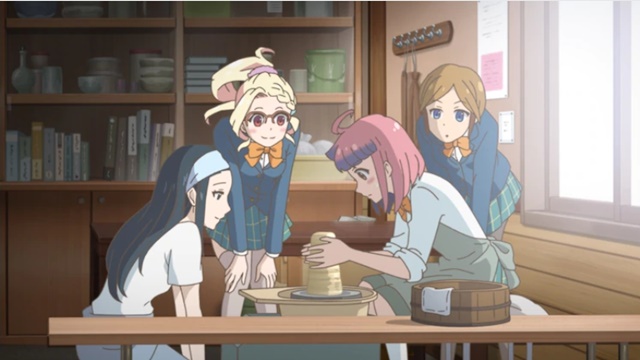 The official website for the forthcoming TV anime adaptation of a pottery-themed manga Yakunara Mug Cup Mo / Let's Make A Mug Too has posted a 60-second teaser PV narrated by Minami Tanaka, who is cast as the protagonist Himeno Toyokawa. The clip introduces the scenery of Tajimi-city, Gifu Prefecture, the main location of its story, and how Himeno is fascinated by the world of pottery.
She says at the beginning of the clip, "I'm Himeno Toyokawa! I'm a first-year high school student who moved to Tajimi City, Gifu Prefecture, which is famous for its high temperature of 40.9 degrees. In this town, I've found something I can be really passionate about." Then, the other members of the Togei-bu (pottery club) are introduced in turn.
In the clip, it is also confirmed that the TV anime is set to premiere in Japan in April 2021. The manga was launched in 2011 as part of the project by volunteers and companies in Tajimi-city to revitalize the region. 
Jun Kamiya (Hikaru no Go, Kingdom) is attached to direct the adaptation, alongside series composition writer Naruhisa Arakawa (This Art Club Has a Problem!, ISLAND) and character designer/chief animation director Ayano Yoshioka (Haikara-San: Here Comes Miss Modern). Nippon Animation works on anime production in cooperation with Tajimi-city and Tajimi-city Touring Association.
Main voice cast: 
Himeno Toyokawa: Minami Tanaka (Lily Hoshikawa in Zombie Land Saga)
Mika Kukuri: Yu Serizawa (Mirei Minami in PriPara, Ueno in How Clumsy you are, Miss Ueno)
Naoko Naruse: Yuuki Wakai (Reona West in PriPara, Maria von Messina in Wise Man's Grandchild)
Toko Aoki: Rina Honizumi (Saaya Yakushiji/Cure Ange in Hugtto! PreCure)
Introduction:
The city of Tajimi, located in the southern part of Gif Prefecture, Japan, is famous for Mino earthenware. The city is dotted with historical pottery producers and ceramic art museums. It has facilities where you can try your hand at making pottery, and many restaurants that serve food on Minoware dishes. The story begins when a high school girl moves to a shopping street in Tajimi. Many encounters await her, friends, town folk, ceramic art, etc. What will she discover in a town famous for ceramic?
Teaser visual:
---
Source: TV anime "Yakunara Mug Cup Mo" official website / Twitter
Copyright (c) 2016 Genkina Tajimi Co.,Ltd. All right reserved.

Latest in Anime News by Crunchyroll!