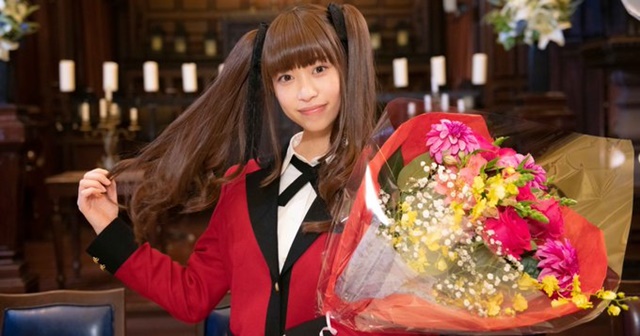 The official website for the live-action adaptation project based on Homura Kawamoto (story) and Toru Naomura (art)'s gambling themed manga Kakegurui announced today that a live-action TV drama adaptation of its spin-off series Kakegurui Twin illustrated by Kei Saiki is set for a release in 2021. The shooting has been already completed. 
The manga has been serialized in Square Enix's Monthly GanGan Joker since its October 2015 issue and has released ten tankobon volumes in Japan so far. It tells a prequel story set one year before the manga's main story begins when the protagonist Yumeko Jabami transfers to Hyakkaou Private Academy, and centers on Mary Saotome, who won first place in a character popularity poll by readers.
25-year-old fashion model/actress Aoi Morikawa, who played Mary Saotome in the first TV drama for two seasons in 2018 and 2019, reprises her role, who is 15 years old in the prequel story. She says, "I've grown three years older since the filming of the first season, but in 'Twin,' Mary's age has dropped by one year to 15. I don't know how much longer I will be able to stay youthful or wear the school uniform, but I want to give you a fresh look at Mary, a freshman in high school, so that you won't feel uncomfortable with my actual age. The other new members are also really great people and we had a great time finishing the shooting. Look forward to the broadcast!"
♥️_______

ドラマ #賭ケグルイ双 製作決定
_______♠️

人気No.1キャラクター✨早乙女芽亜里の活躍を描く #賭ケグルイ の1年前の物語が #森川葵 主演で実写ドラマ化決定????

キャスト/監督コメントはこちらから????https://t.co/tnd39Inwl7 pic.twitter.com/b6JLffXeiy

— ドラマ&映画『賭ケグルイ』 (@kakegurui_jp) December 1, 2020
---
As reported, Kakegurui: The Movie Part 2 (tentative title), a sequel to the first live-action film Kakegurui – Compulsive Gambler, has been also in the works for a release in 2021.
The live-action project launched with the ten-episode first season of the TV drama series aired in Japan from January to March 2018. Then the five-episode second season followed in April 2019. Right after the second season fonished airing, the first feature film was released as its sequel in May. 
┏♣️━ ♥️━♠️━♦️━♣️┓

映画 #賭ケグルイ Part2 (仮)
2021年全国公開決定

┗♥️━♠️━♦️━♣️━♥️ ┛

レギュラーキャスト陣と共に
完全オリジナルストーリーで
皆さんの元に帰って来ます‼️

さァ!さァ!さァ!
賭ケグルイましょう!#浜辺美波 pic.twitter.com/ZZ9N4Y1iB5

— ドラマ&映画『賭ケグルイ』 (@kakegurui_jp) August 28, 2020
---
Source: "Kakegurui" live-action project official website / Twitter
©Homura Kawamoto, Toru Naomura/SQUARE ENIX, Drama "Kakegurui" Production Committee, MBS

Latest in Anime News by Crunchyroll!