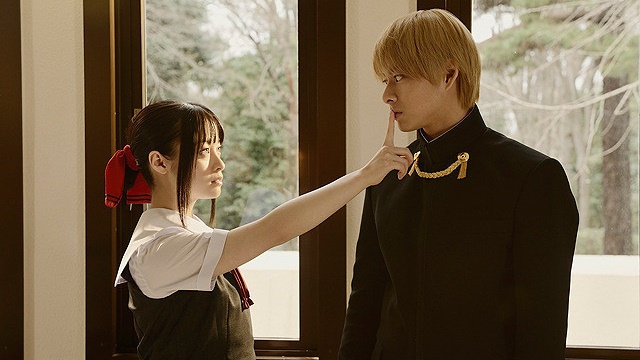 The live-action film adaptation of Aka Akasaka's romantic comedy manga Kaguya-sama: Love Is War will be broadcast for the first time on terrestrial broadcasting today, January 5, from 20:57 (JST) on TBS and its affiliates. Comments from the film's two main cast – Kanna Hashimoto (Kaguya Shinomiya) and Sho Hirano (Miyuki Shirogane) – to promote the broadcast have arrived. 
The Hayato Kawai (Nisekoi live-action film)-directed film was released in Japan on September 6, 2019, and topped the weekend box office ranking with an impressive 315 million yen, beating Makoto Shikai's Weathering With You. It earned 2.24 billion yen from its domestic run to become the 24th top-grossing film of 2019.
Kanna Hashimoto:
"From the fast-paced conversations in the student council room to the touching scene of the fireworks, many episodes are condensed into this film, and the richness of those contents is its appeal. In addition, I think this film has fun elements that seem to have jumped straight out from the original manga. I'm happy that so many people have already seen it, and many of them say that it's still enjoyable no matter how many times they watch it. So even if you've already seen it, please take this opportunity to watch it again."
Sho Hirano:
"I've been often asked, 'Where are the highlights?' But this film is full of highlights everywhere, so I hope you will enjoy watching it overall (laughs). In particular, the interaction between Shirogane and Kaguya is very cute and endearing, so I hope that viewers can feel that way too. Please look forward to the broadcast!"
In addition, the film's official Twitter account has teased that there will be a big announcement… or "a big confession" during the broadcast tonight. So stay tuned! 
お正月楽しく過ごしていますか?

既にご存知の方もいらっしゃるかもしれませんが、地上波放送で重大発表を…いや、かぐや様風に言いましょう、

???? 重 大 "告 白" ????

をさせて頂きます‼️

冒頭からコメントがあります✨
お見逃しなく❣️https://t.co/kKpSrt38Ub#映画かぐや様#重大告白

— 1/5地上波初放送決定!BD&DVD好評販売中!映画『かぐや様』公式 (@kaguyasama0906) December 31, 2020
CM for the broadcast:
---
Source: "Kaguya-sama: Love Is War" live-action film official website / Twitter, Cinema Today
(C)2019 Movie "Kaguya-sama: Love Is War" Production Committee

Latest in Anime News by Crunchyroll!