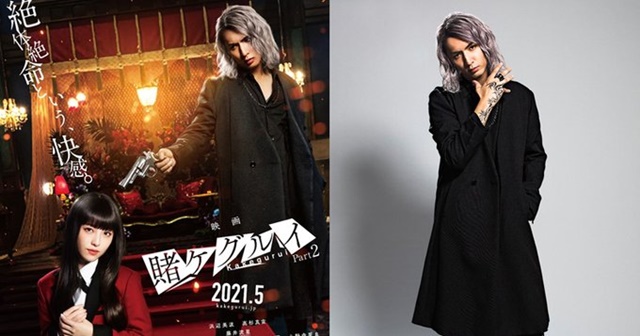 The official website for the live-action adaptation project based on Homura Kawamoto (story) and Toru Naomura (art)'s gambling themed manga Kakegurui announced today that Ryusei Fujii, a 27-year-old member of Johnny & Associates' boys idol group Johnny's West, is cast as Makuro Shikigami in the forthcoming sequel film. It is the first time that he has played a villain character.
The character is introduced as "a dangerous man who was driven out of Hyakkaou Private Academy after an incident that occurred two years ago. He is a skilled gambler with a special ability called "synesthesia" and plunges the school into chaos."
Message from Ryusei Fujii:
I had been watching "Kakegrui Season 1" on TV, so I was surprised when I was offered the role. I remember I was very happy because I was not always given the role of a heel in my acting career. The worldview of the series was the same as I had seen on TV, and I felt the core strength from Yumeko. And the other actors, such as Mary and the student council president, I was scared out of my wits when they faced each other, even though they were only acting. But since I was playing the role of the biggest enemy, I knew I couldn't lose. I consulted the director closely to create the most outrageous character in the series, from his visuals to gestures. Every scene in the film is a highlight, so please look forward to it.
┏♣️ ━━━━━━━━━━━♠️┓ #賭ケグルイ 史上最凶最悪の刺客解禁????
    
  ✘ ✘ ✘ 視鬼神真玄 ✘ ✘ ✘
||
ジャニーズWEST #藤井流星

┗♥️━️━━━━━━━━━━♦️┛

コメントはこちら▼https://t.co/qLsmMCqc9E pic.twitter.com/90QpduM9v5

— ドラマ&映画『賭ケグルイ』 (@kakegurui_jp) December 9, 2020
It was also confirmed that Kakegurui: The Movie Part 2 (tentative title), a sequel to the first live-action film Kakegurui – Compulsive Gambler released in March 2019, is set to be released in Japan in May 2021. The second film will tell an original story supervised by the original manga's story writer Kawamoto. The first film's director Tsutomu Hanabusa (Sadako 3D, Keep Your Hands Off Eizouken!) returns to the director's chair, along with all of the main cast members who reprise their roles.
You can check out a teaser visual featuring the protagonist Yumeko Jabami by Minami Hamabe and Makuro Shikigami by Ryusei Fujii below.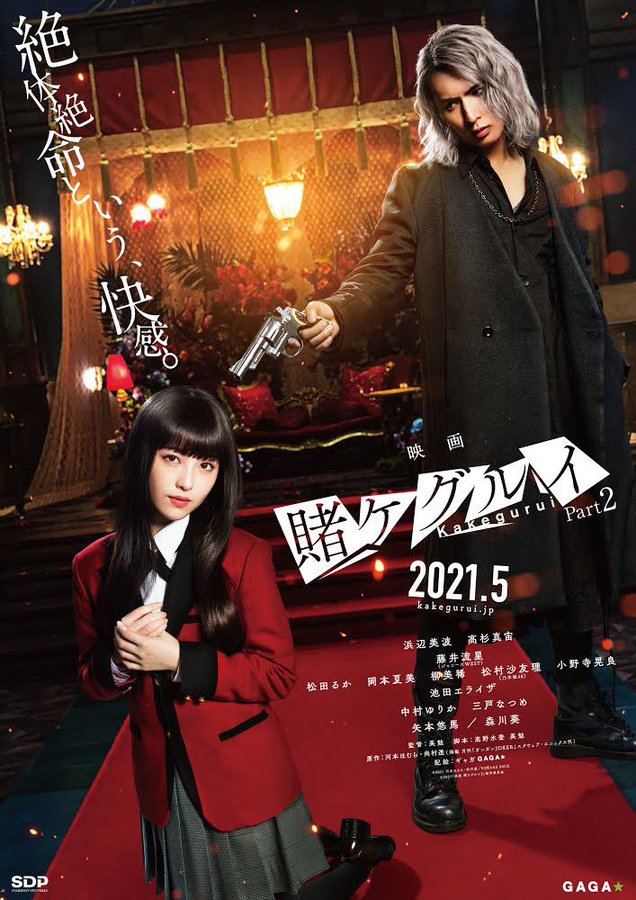 #賭ケグルイ Part2
ティザービジュアルも解禁 ❥ ❥ ❥ ????

絶体絶命という、
        快感。♥️#2021年5月公開 pic.twitter.com/GeHlnD0e2w

— ドラマ&映画『賭ケグルイ』 (@kakegurui_jp) December 9, 2020
---
Source: "Kakegurui" live-action project official website / Twitter
©Homura Kawamoto, Toru Naomura/SQUARE ENIX, Drama "Kakegurui" Production Committee, MBS

Latest in Anime News by Crunchyroll!