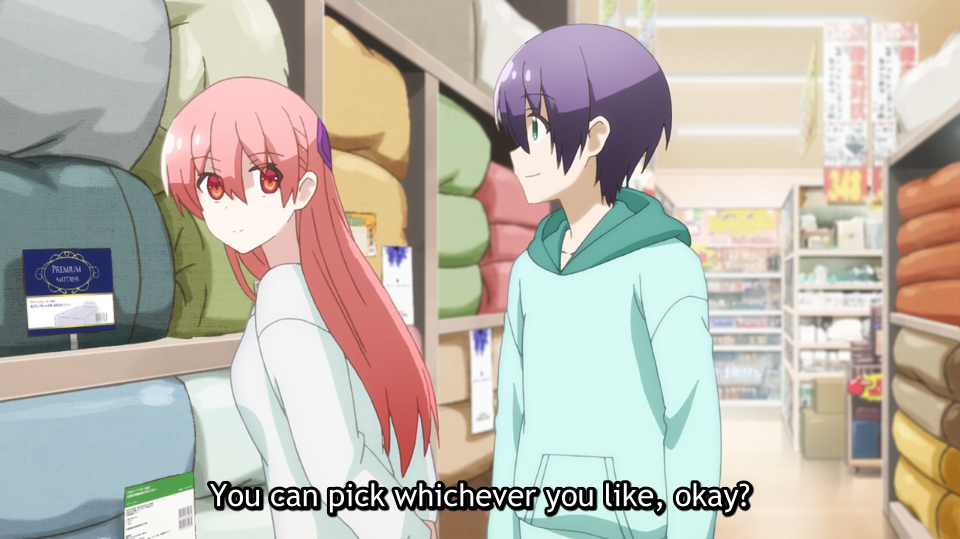 Most couples take their time to get to know each other for a bit before deciding to rush into marriage and move in together but not TONIKAWA's Nasa and Tsukasa. These newlyweds tied the knot immediately after meeting and Nasa has been scrambling to make their shared house a home ever since. Watching Nasa provide his bride with all the trappings of married life led me to a very basic question: How much have Nasa and Tsukasa spent on big purchases since getting married? Since it's also Valentine's Day — another day to celebrate love — let's compare their spending with how much couples typically spend on this holiday.
In the first episode before Nasa and Tsukasa get together, we get a brief glimpse at how Nasa has been living his life. He's able to keep a stable job, but despite having a disposable income, he doesn't really have a lavish lifestyle. His apartment contains the bare essentials for being able to live comfortably, and that's pretty much it. Once Tsukasa comes into his life, that lifestyle begins to change since it's not just about him anymore, and he also wants to make his new wife happy whenever he can.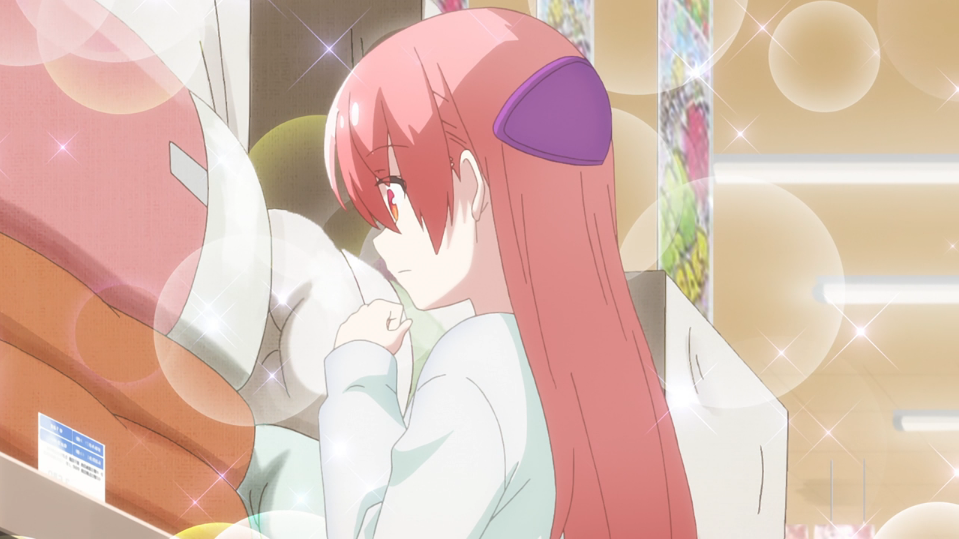 Since we're going to focus mostly on his bigger purchases and tally those up at the end, let's begin with the first bigger thing Nasa had to get, a place for Tsukasa to sleep. Sometimes, we'll be able to rely on the show to tell us prices, but other times, we'll have to use various Japanese shops to give us a general idea of cost. After Tsukasa decides between various kinds of materials to sleep in and Nasa wrestles with holding her hand, they finally are able to get a futon for Tsukasa. Because the show doesn't show off any prices, we can determine through actual stores, that futons can be expensive. Give the disparity in prices and the fact that Tsukasa says that she didn't pick out the most expensive, let's mark this down as a ¥10,378.50 ($99.50) purchase.
Episode 5 ends up being one of the most expensive episodes for Nasa because it deals with not only Nasa and Tsukasa getting their wedding rings, but also the two of them buying a television so Tsukasa can watch movies. Tsukasa again isn't picky about what she wants, but because again the show isn't specific about which TV they get, let's presume they get the one that she gives her speech about picture quality in front of, which is ¥92,880 ($890.43), already bringing his total up to about ¥103,785 ($994.98).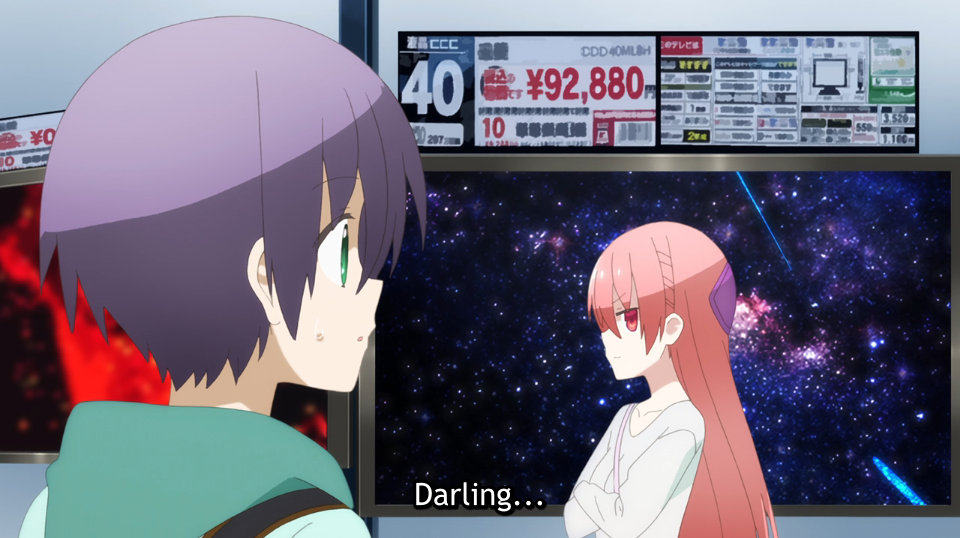 Of course, the bulk of this episode revolves around the two trying to find the perfect rings. What Nasa quickly learns is that nice jewelry can get very expensive. When you're going to high-end jewelers, you'll certainly run into pieces quickly costing millions of yen. Certainly, Nasa has had enough money saved up to spend on some of these bigger purchases amongst other things he's had to get for Tsukasa, but he's certainly not making millions of yen. Even though Nasa starts to find cheaper rings, he begins to spiral out of control thinking he needs the best of the best in terms of karats, quality, and price. Tsukasa is thankfully able to snap him out of that predicament, and they're able to find a nice pair of rings for a much lower price of ¥32,000 ($306.95), which the end of the fifth episode is nice enough to show us.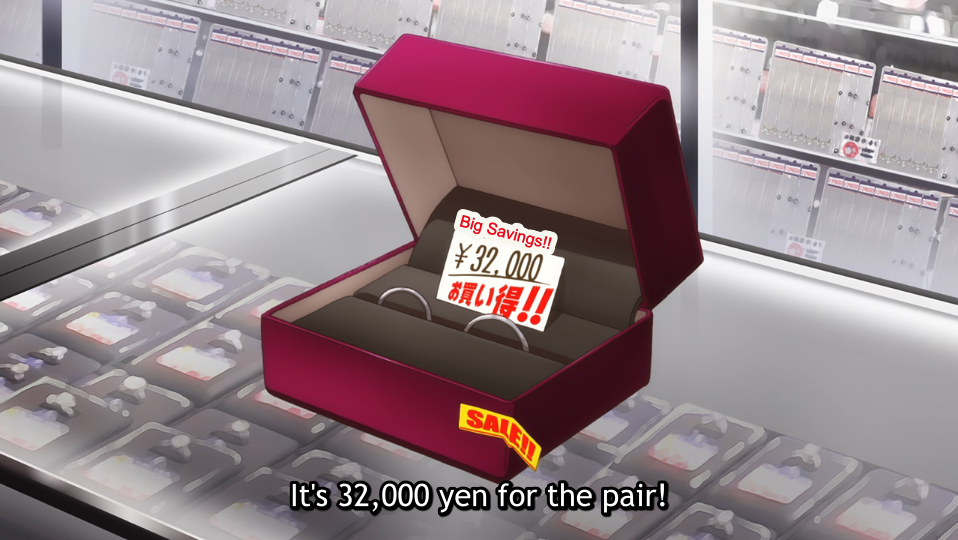 Nasa's big purchases in the series so far total up to around ¥137,785 ($1,321.68). A hefty amount of money, and that's without having had an actual wedding ceremony, yet.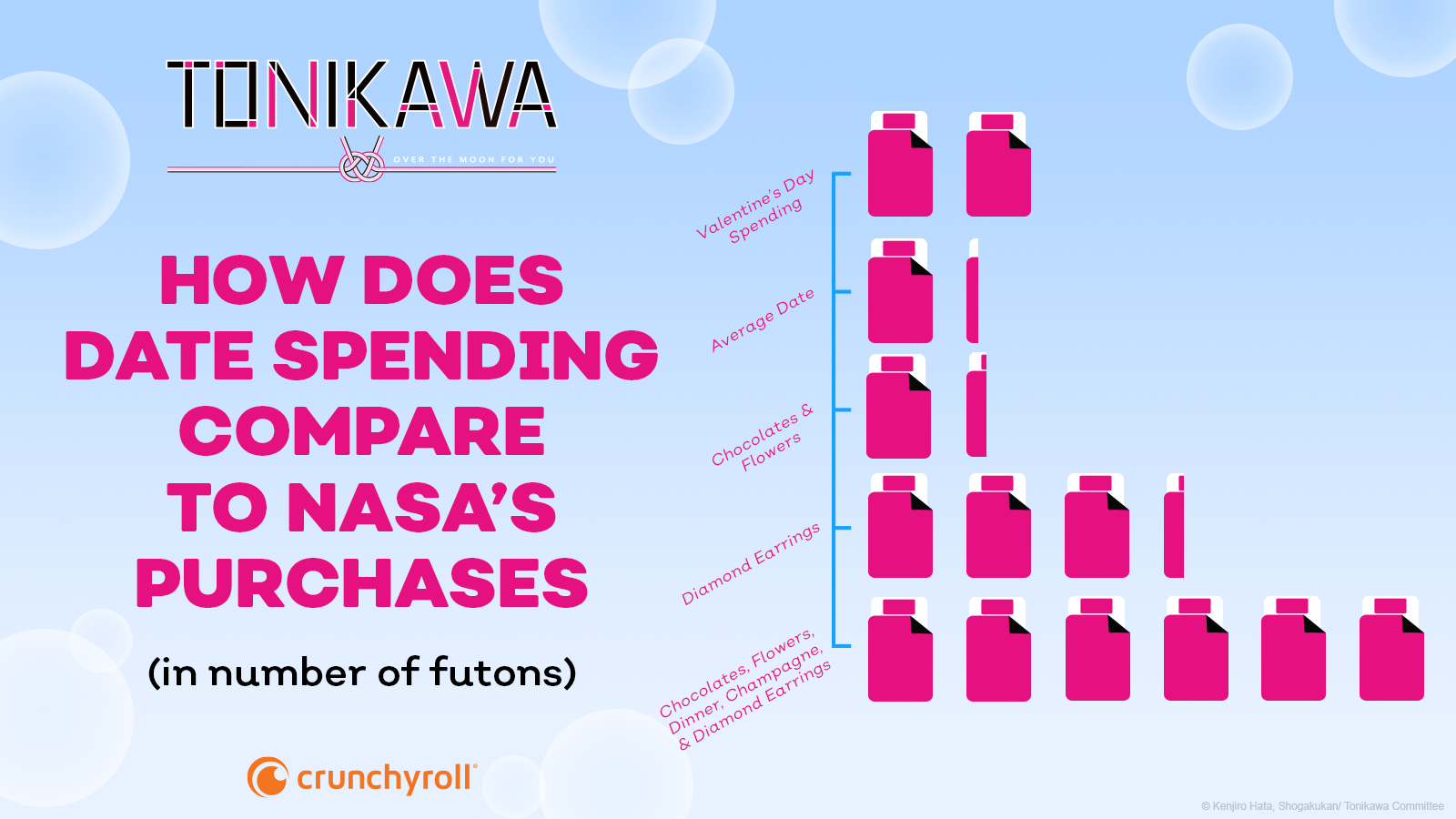 Now, since it's Valentine's Day, let's come up with a hypothetical date for them. According to an article from USA Today, the average couple can spend up to $200 (¥20,823.40 for Nasa) while celebrating Valentine's Day with any combination of traditional items like flowers, candy, a card, jewelry, a dinner, or perhaps some sort of activity. You could get two futons for that price! That's also nearly twice as much as what the average cost of a traditional non-Valentine's date (dinner, drinks, and a movie) is at $102.57 (¥10,679.28), or just over the cost of one futon. Of course, if you wanted to go cheaper and get your significant other just chocolates and flowers on Valentine's Day, because that could be all they want, that would only set you back an average of $15.89 (¥1,654.42) for the chocolate and $97.22 (¥10,122.25) as the average cost for a dozen roses, costing a total of $113.11 (¥11798.39). What if you wanted to make your gift a little bit more special? Say a pair of diamond earrings? Congratulations, you just bought a little over three futons at $337.80 (¥35,223.42). Should you want to go all out with chocolates, roses, dinner, champagne, and a pair of diamond earrings, you'd be looking at a hefty $604.52 (¥63,056.88) price tag, or roughly six futons. Hey, that's just under half what Nasa has spent on married life so far! 

How many futons did you buy this Valentine's Day? Let us know in the comments!
---
Jared Clemons is a writer and podcaster for Seasonal Anime Checkup and author of One Shining Moment: A Critical Analysis of Love Live! Sunshine!!. He can be found on Twitter @ragbag.
Do you love writing? Do you love anime? If you have an idea for a features story, pitch it to Crunchyroll Features!
Latest in Anime News by Crunchyroll!