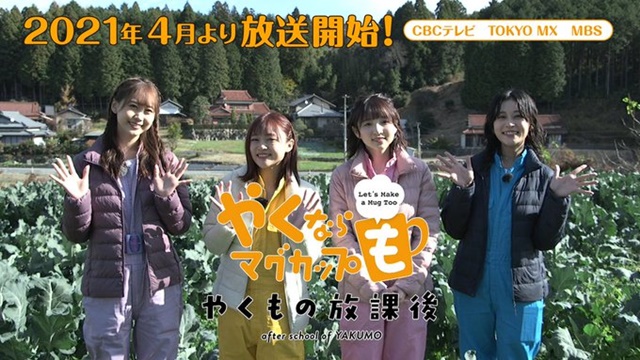 Following the anime PV posted last month, the official website for the forthcoming TV anime adaptation of a pottery-themed manga Yakunara Mug Cup Mo / Let's Make A Mug Too has posted a 30-second PV to introduce its live-action part.
The manga was launched in 2011 as part of the project by volunteers and companies in Tajimi-city, Gifu Prefecture,  to revitalize the region. Its story follows four high school girls as they fall in love with pottery through Mino Yaki, a traditional craft of the city.
The first half of the program is the animation part based on the manga, and the second half is the live-action part entitled "Yakumo no Houkago / after school of YAKUMO". In the live-action part, the anime's four main voice cast members – Mimi Tanaka (Himeno Toyokawa), Yu Serizawa (Mika Kukuri), Yuuki Wakai (Naoko Naruse), and Rina Honizumi (Toko Aoki) – introduce the charm of the city.
In the clip, the four enjoy visiting the main locations of the story in the city, including a traditional candy store Toshoken and a Rinzai Zen Buddhist temple Eiho-ji, and actually trying their hand at pottery making.
#田中美海 さん、#芹澤優 さん、#若井友希 さん、#本泉莉奈 さんが多治見市に行ってきました♪

CBCテレビでのTV放送も決定????

21年4月のTV放送に向けてどんどん盛り上げていきますので、応援お願いします????

????https://t.co/ny78hod3AG#やくもtv

\市役所にて記念にぱしゃり????/ pic.twitter.com/uJ8iPGorLm

— TVアニメ&実写『やくならマグカップも』公式 21年4月TV放送! (@yakumo_project) November 30, 2020
---
Jun Kamiya (Hikaru no Go, Kingdom) is attached to direct the adaptation, alongside series composition writer Naruhisa Arakawa (This Art Club Has a Problem!, ISLAND) and character designer/chief animation director Ayano Yoshioka (Haikara-San: Here Comes Miss Modern). Nippon Animation works on anime production in cooperation with Tajimi-city and Tajimi-city Touring Association.
Yakunara Mug Cup Mo / Let's Make A Mug Too is set to premiere on CBC TV, TOKYO MX, and MBS in April 2021.
【放送局追加のお知らせ????】
CBCテレビ、TOKYO MX、MBSでの放送が決定しました~????

21年4月のTV放送に向けてどんどん盛り上げていきますので、応援お願いします????

????https://t.co/KL1kxrOxZq#やくもtv

\21年4月まで、もう少しだけお待ち下さい/ pic.twitter.com/TBG0NHzEWL

— TVアニメ&実写『やくならマグカップも』公式 21年4月TV放送! (@yakumo_project) December 15, 2020
Teaser anime PV:
Main voice cast: 
Himeno Toyokawa: Minami Tanaka (Lily Hoshikawa in Zombie Land Saga)
Mika Kukuri: Yu Serizawa (Mirei Minami in PriPara, Ueno in How Clumsy you are, Miss Ueno)
Naoko Naruse: Yuuki Wakai (Reona West in PriPara, Maria von Messina in Wise Man's Grandchild)
Toko Aoki: Rina Honizumi (Saaya Yakushiji/Cure Ange in Hugtto! PreCure)
Introduction:
The city of Tajimi, located in the southern part of Gif Prefecture, Japan, is famous for Mino earthenware. The city is dotted with historical pottery producers and ceramic art museums. It has facilities where you can try your hand at making pottery, and many restaurants that serve food on Minoware dishes. The story begins when a high school girl moves to a shopping street in Tajimi. Many encounters await her, friends, town folk, ceramic art, etc. What will she discover in a town famous for ceramic?
Teaser visuals: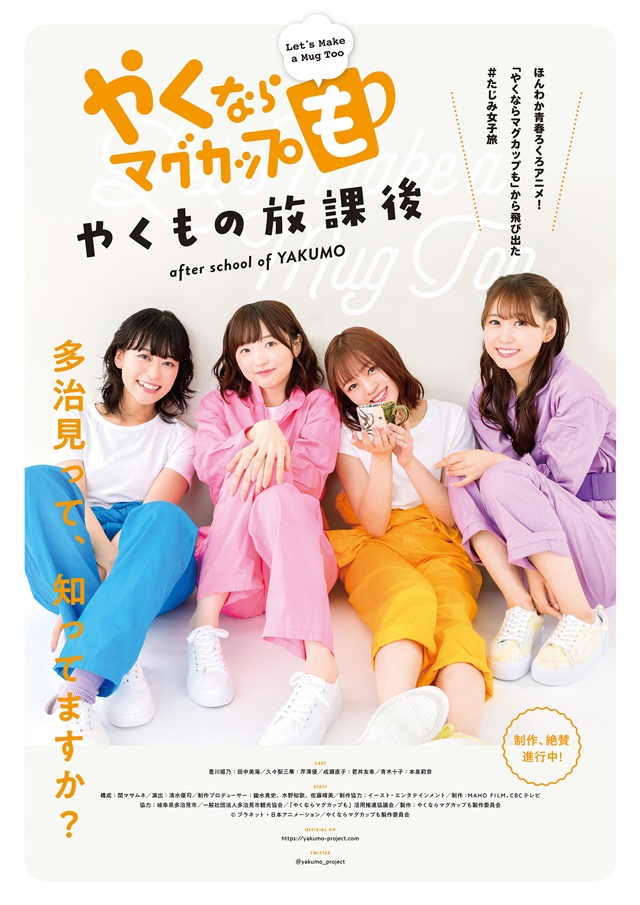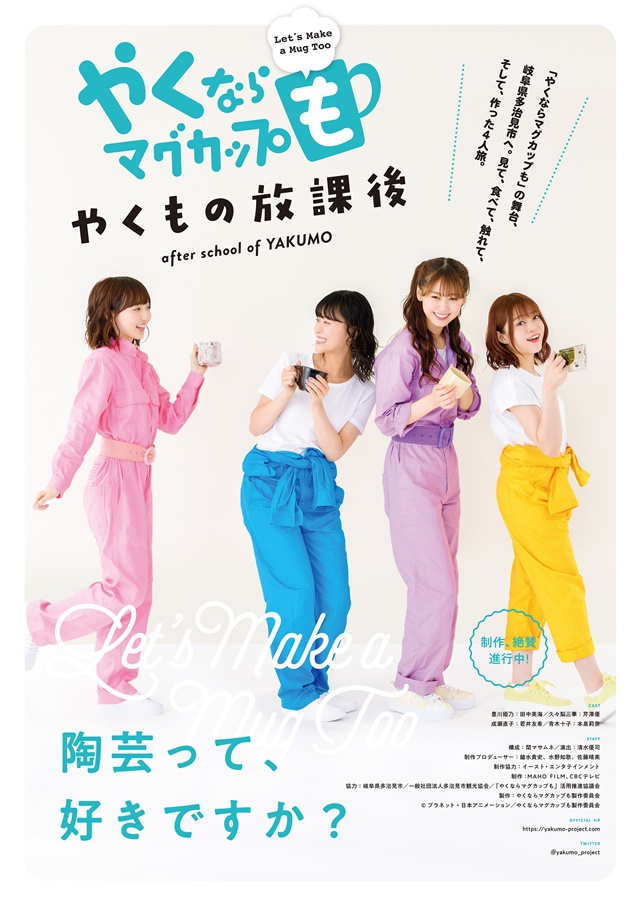 ---
Source: TV anime "Yakunara Mug Cup Mo" official website / Twitter
Copyright (c) 2016 Genkina Tajimi Co.,Ltd. All right reserved.

Latest in Anime News by Crunchyroll!