Seasons come and go, but anime is eternal, and there's no need to be afraid of missing out on the goodness of yesteryear when "Cruising the Crunchy-Catalog" is here to help connect would-be viewers with the shows they may have passed over the first time around.
Thanksgiving has concluded, Christmas is just around the corner, and as the weather cools down, we anime fans turn our thoughts to warm campfires and cool locations, so this week we're getting into the wintery spirit with a look back at a series that captures the idea of "chill" in both the literal and metaphorical sense. Please join us as we revisit Laid-Back Camp.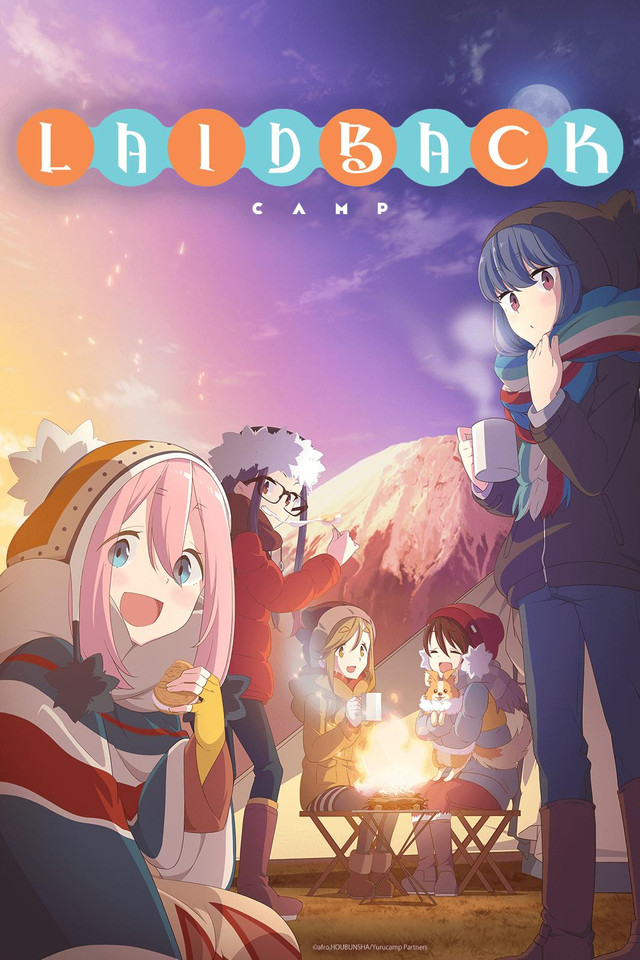 What's Laid-Back Camp?
Based on the manga by afro, Laid-Back Camp is a winter 2018 TV anime with direction by Yoshiaki Kyogoku and animation production by C-Station. Crunchyroll describes the story of the series as follows:
Nadeshiko, a high school student who had moved from Shizuoka to Yamanashi, decides to see the famous, 1000 yen-bill-featured Mount Fuji. Even though she manages to bike all the way to Motosu, she's forced to turn back because of worsening weather. Unable to set her eyes on her goal, she faints partway to her destination. When she wakes up, it's night, in a place she's never been before, with no way of knowing how to get home. Nadeshiko is saved when she encounters Rin, a girl who is out camping by herself. This outdoorsy girls story begins with this first encounter between Nadeshiko and Rin.
This description makes the intro episode of Laid-Back Camp sound a bit harrowing, but rest assured, gentle readers, that the series is only stressful if you're like me and have an almost pathological distaste for camping. After a little viewing, I got over my hang-ups, and I was able to appreciate the show's cozy and comedic charms.
The Great Outdoors.
The primary attraction of Laid-Back Camp is how it explores the hobby of modern camping in glorious detail. Not only does the show provide advice and trivia for activities such as setting up a tent, tending a campfire, and enjoying outdoor cooking, but special care is given to conveying the beauties of nature.
From the show's color and lighting schemes to the subtle sounds of crackling campfires to the steam that condenses when characters exhale in the cold, Laid-Back Camp captures a sense of the Japanese countryside during the winter season in a superb fashion that few other TV anime can rival.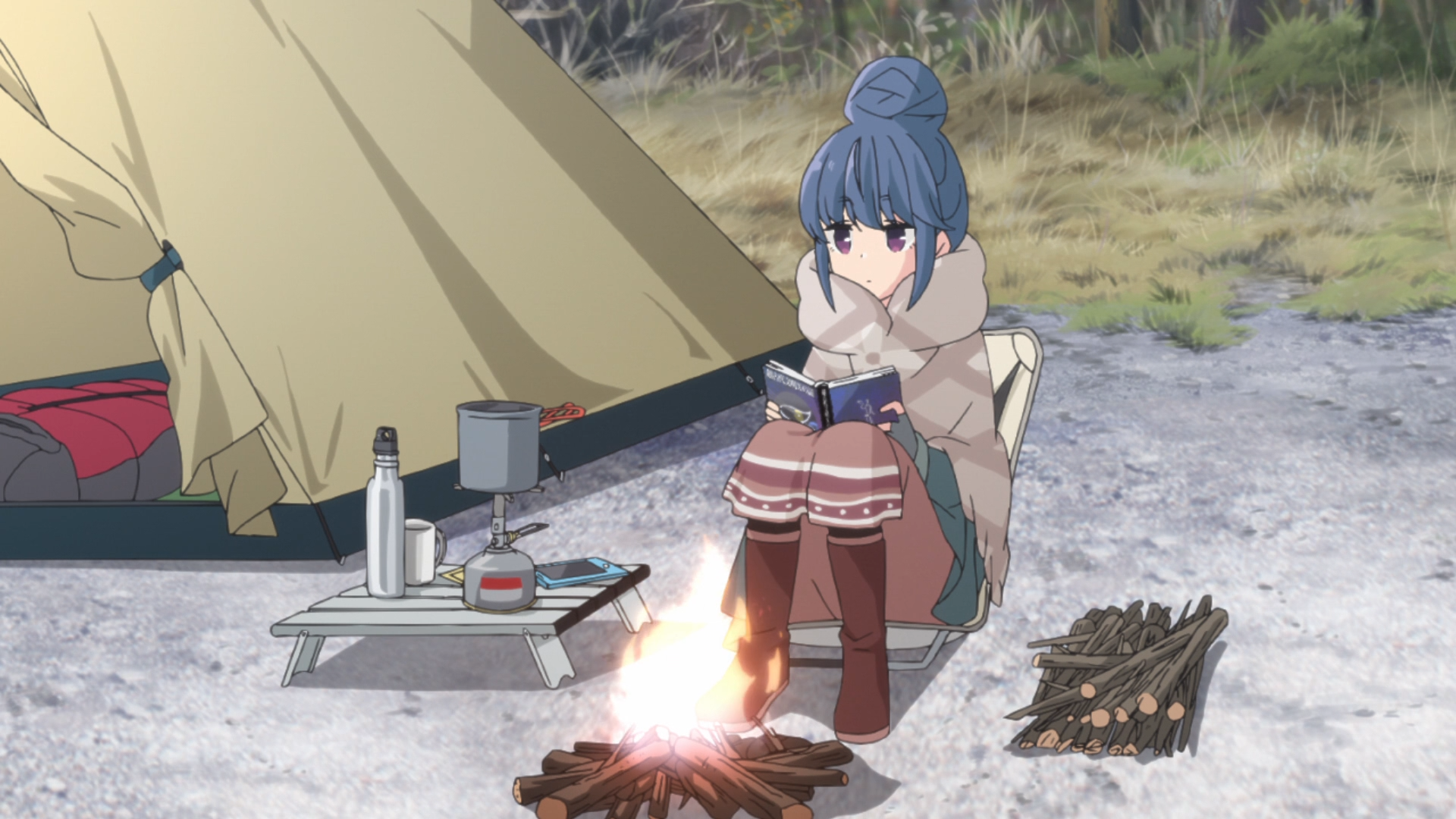 Roughing It?
Laid-Back Camp also quietly explores themes of humanity's place within the natural world. When Nadeshiko, Rin, and the members of the Outdoor Activities Club go camping, they aren't disconnecting entirely from the comforts of modern society.
Instead, the girls bring along precision-engineered gear (tents, sleeping bags, portable heaters, etc.) as well as their smartphones and more mundane items such as books, so they can remain in constant contact with each other and with the trappings of everyday life. Running water, plumbing, and convenience store food are never too far away.
This juxtaposition of the vast emptiness of the wilderness versus the amenities of urban life gives Laid-Back Camp a reverent but contemplative tone.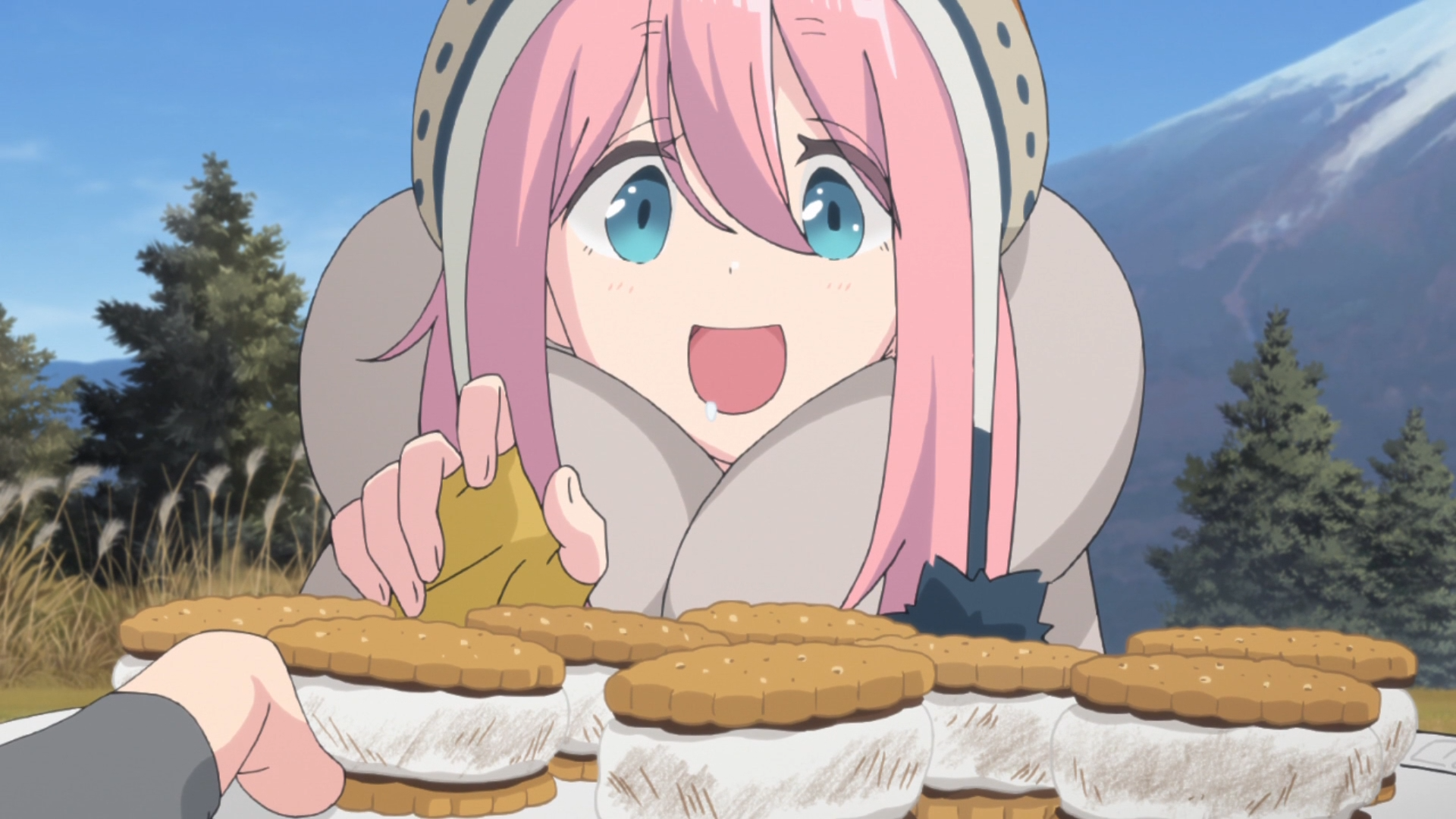 Rose-Colored Glasses.
Laid-Back Camp presents an idealized version of camping where the thousands of tiny disasters that can accompany the activity — ravenous mosquitoes, inclement weather, lousy food, annoying neighbors, broken gear, etc. — don't really apply. Combined with a bit of gourmet cooking thrown in for good measure, it's designed to make the viewers feel warm and cozy.
Laid-Back Camp most closely resembles reality with the running gag of the girls experiencing sticker shock whenever they discover that camping can be an expensive hobby. The dramatic tension of the show never peaks higher than Rin — who prefers peace and quiet to raucous social gatherings — slowly learning to overcome her initial resistance to camping with other people, and the worst-case scenarios involve closed roads and missed opportunities.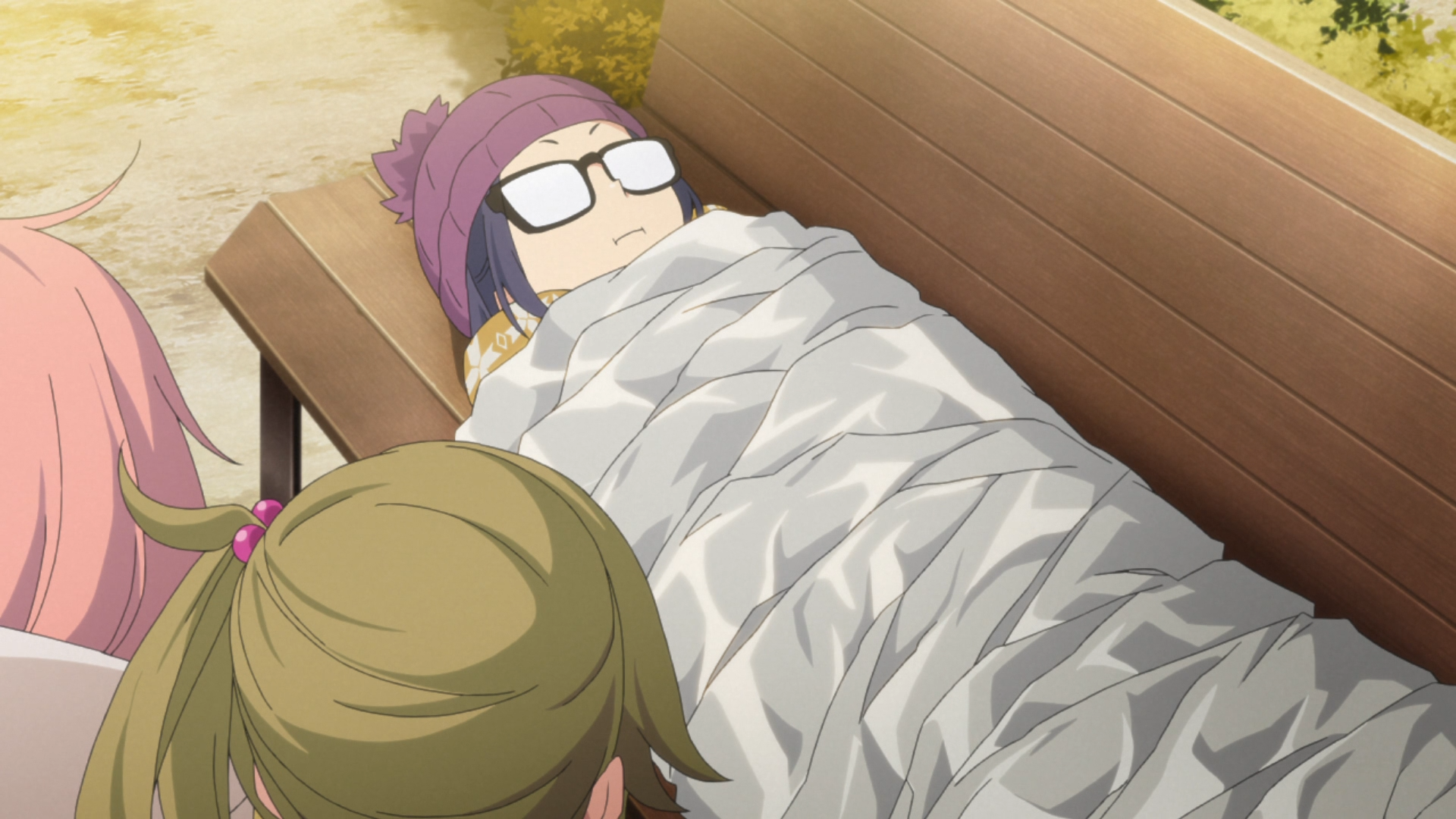 Maximum Chill.
Crunchyroll currently streams Laid-Back Camp in numerous territories around the world, and the series is available in the original Japanese language with subtitles in English, Spanish, Latin American Spanish, French, Portuguese, Italian, German, Russian, and Arabic. Crunchyroll also streams the ROOM CAMP spin-off anime, and an English language version of the original manga is available from Yen Press. Additionally, a second season of Laid-Back Camp is scheduled to hit Japanese TV beginning in January of 2021.
With an understated sense of humor, a low degree of dramatic conflict, and a genuine love of the outdoor life that is obvious in every animation frame, Laid-Back Camp is an easy recommendation for viewers of all stripes. If the series is available in your area, then please consider giving Laid-Back Camp a try.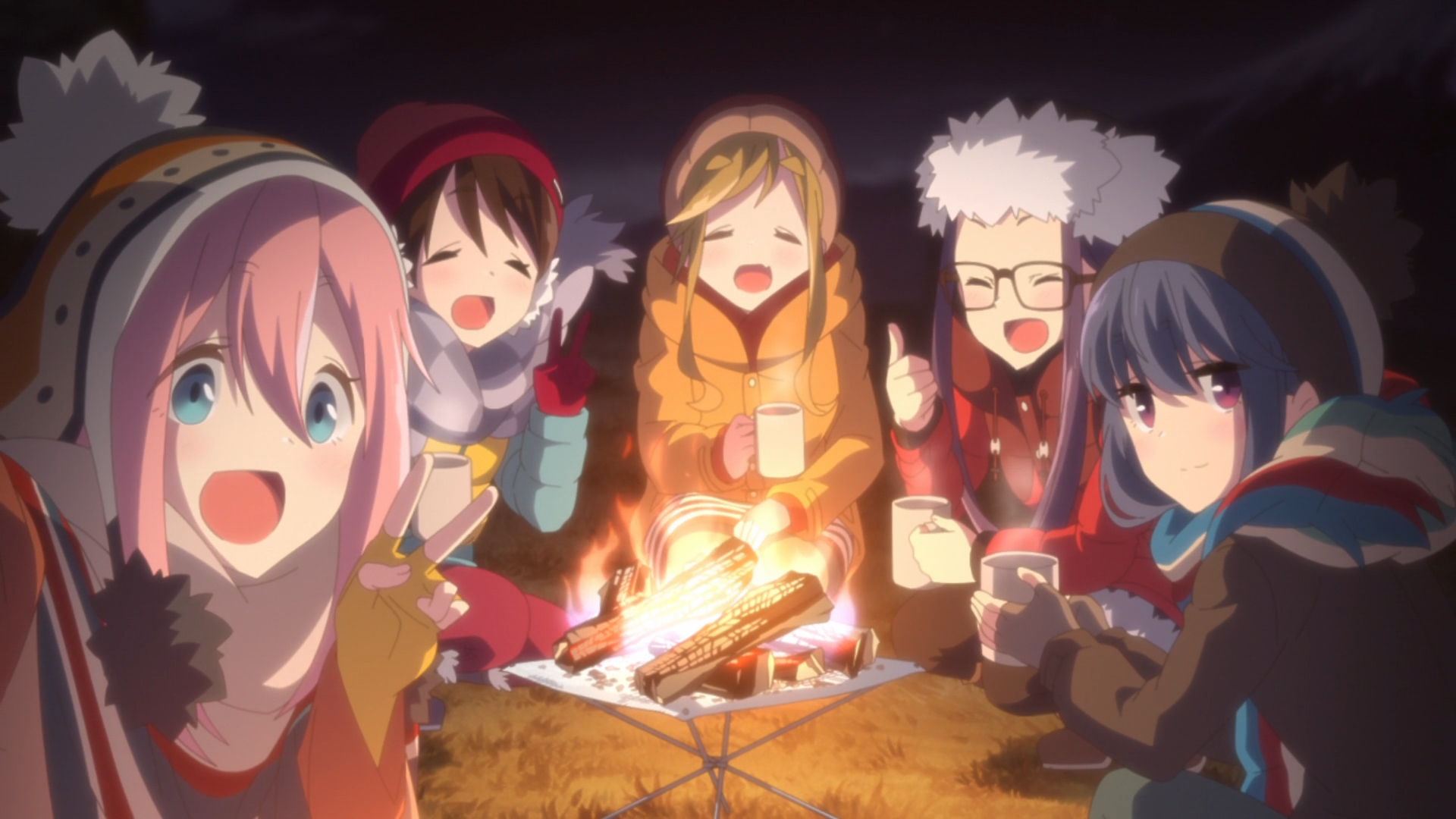 Thanks for joining us for this week's installment of "Cruising the Crunchy-Catalog." Be sure to tune in next time when we take a look back at a story of employment with a foxy, supernatural twist when we check out a series from the fall season of 2017.
Is there a series in Crunchyroll's catalog that you think needs some more love and attention? Please send in your suggestions via e-mail to cruisingcrunchy@gmail.com or post a Tweet to @gooberzilla. Your pick could inspire the next installment of "Cruising the Crunchy-Catalog!"

---
Paul Chapman is the host of The Greatest Movie EVER! Podcast and GME! Anime Fun Time.
Do you love writing? Do you love anime? If you have an idea for a features story, pitch it to Crunchyroll Features!
Latest in Anime News by Crunchyroll!