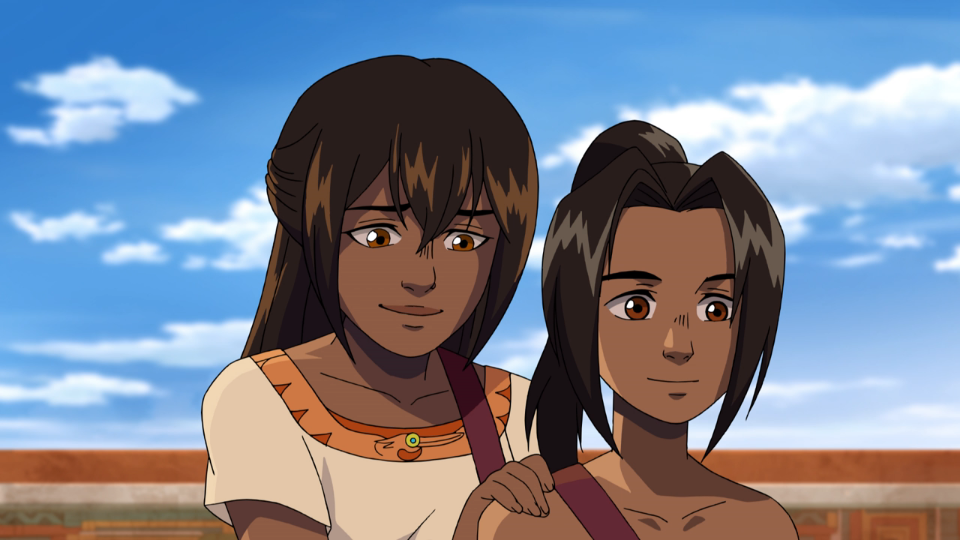 SPOILERS FOR ONYX EQUINOX EPISODE ONE "THE LAST DAY" BELOW
Onyx Equinox's series premiere seemed to kick off by surprising a lot of people, just from your reactions on social media alone. It's a violent, bloody affair that goes in some directions that many people weren't expecting, while also giving a look at aspects of Mesoamerican culture that some folks might not have been familiar with. With the first episode finally being available to everyone, let's take a look at what fans had to say on Twitter about Episode 1!
I just watched Onyx Equinox's first episode….Omg it was bloodier than I expected xD I was for sure entertained the whole time. I'm so happy to see Aztec representation in an animated series. So excited to see the story progress 😀 @Crunchyroll pic.twitter.com/uu86mHqrrc

— Cami (@camis_crackers) November 23, 2020
Onyx Equinox Weekend was the most joy I've felt in at least ten months. I'm really proud of yous guys. pic.twitter.com/TI1A7516DH

— Anna Lencioni▫️▫️▫️ (@banannerbread) November 23, 2020
Watched the first episode of Onyx Equinox! I adore the character and creature designs, and I want to see more of this world and story! Please give it a watch and your support!

— Jay H. (@bonesnail) November 23, 2020
Just watched the first episode of Onyx Equinox on CrunchyRoll and was impressed on first viewing. I had somehow thought this was a kids show but, nope, this is basically an R-rated animation that does not shy away from certain aspects of Mesoamerican spirituality. Wow.

— Cassie (@SyllabaAnceps) November 23, 2020
#OnyxEquinox It is something wonderful that although more than anime it is something hybrid, it is fascinating to see and as a Latino and to say that one feels the love and respect for the pre-Columbian past of the territory.

— Misteranime (@Misteranime3) November 22, 2020
#OnyxEquinox episode 1: There's a lot of potential to this story so I'm interested to see where it goes. Honestly motley crews on a mission is totally my thing so I'll be pleased if it goes that way. Really hasn't held back on the blood.

— Jessica Ruth Phipps (@JRuthPhipps) November 22, 2020
My partner and I watched the first episode of #OnyxEquinox today!

We then sent over an hour essentially going scene-by-scene and talking about each part, the designs, the gods, the authentic vs fantastical elements, the themes, the color choices – all of it!

— Clicky-Penned | ????????♥️ (@ClickyPenned) November 22, 2020
It's not every day you have a Main Protagonist whose greatest, shining talent, the one that gets them called "a prodigy", is weaving beautiful textiles in a loom.#OnyxEquinox pic.twitter.com/3f5wf1f4nR

— Jorge APB ???????? (@ZefMex) November 22, 2020
Finally watched Onyx Equinox episode one, it was beautiful ;—-; It feels so epic and unique, we're lucky to have something like this in the world now ???? Also the music is so good!! ????

— ⭐️Raye Rodriguez???? (@dinoraye) November 22, 2020
im only halfway through onyx equinox and so far its so fascinating?? loveeee how the art and animation ties so closely to the aztec and mayan mythology, I mean look at the shape of that smoke im- (ps I know yall whipped for this guy) pic.twitter.com/QRPO67xXn2

— jaja 유ㅁ유 ((tired????))/bnha spoilers (@crazydurians) November 22, 2020
What were your impressions after Episode 1? Was the content of Onyx Equinox what you were expecting or were you surprised by it? Let us know down in the comments below!

---
Jared Clemons is a writer and podcaster for Seasonal Anime Checkup and author of One Shining Moment: A Critical Analysis of Love Live! Sunshine!!. He can be found on Twitter @ragbag.
Do you love writing? Do you love anime? If you have an idea for a features story, pitch it to Crunchyroll Features!
Latest in Anime News by Crunchyroll!