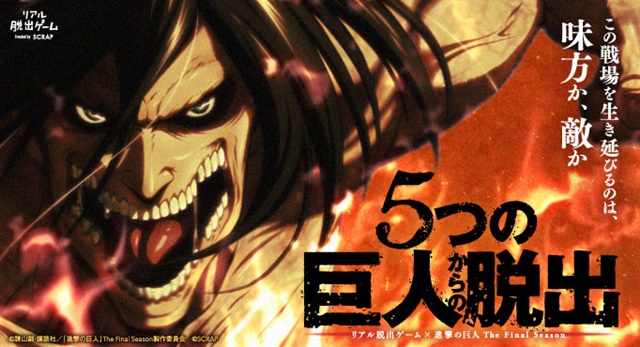 Along with the final season of the TV anime, which began airing in Japan on December 6, the Attack on Titan-themed Real Escape Game will also reach its final season titled "Escape from The Five Titans" next year. This is the fifth and final collaboration between the internationally popular Japanese manga/anime franchise and the real-life game event produce by SCRAP.
The catchphrase for the final season is "Who will survive this battlefield, enemies or allies?"
In the final season of the well-received Attack on Titan event series, participants become members of The Survey Corps to confront the five Titans in cooperation with Levi and Mikasa. Amidst the tension that the Titans are approaching, the storyline of battles against the 'enemy' with each other's beliefs and survival at stake will transport the participant to the world of Attack on Titan.
The key to this game is a map. Participants use items to actually assemble a diorama map of the city of Marley, where the battle takes place. Planning a strategy to defuse the situation using the map they have assembled is the key element that will make the difference between success and failure in escaping. The maximum number of participants in each team is six.
Photos from the past events: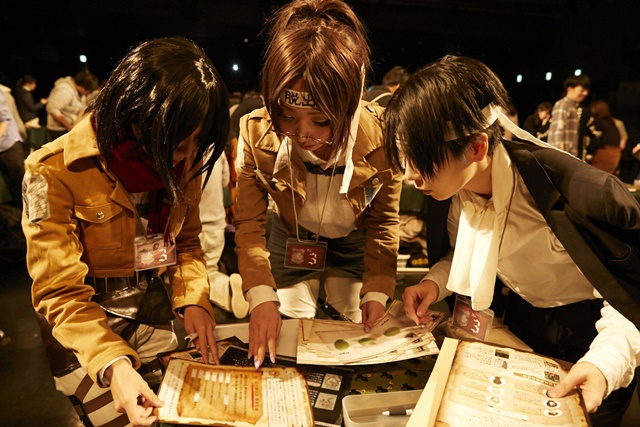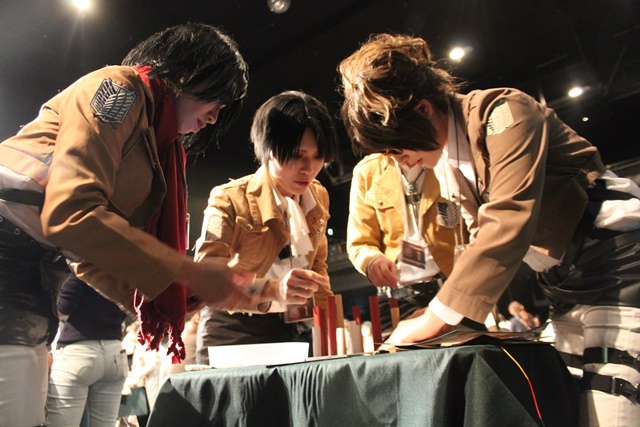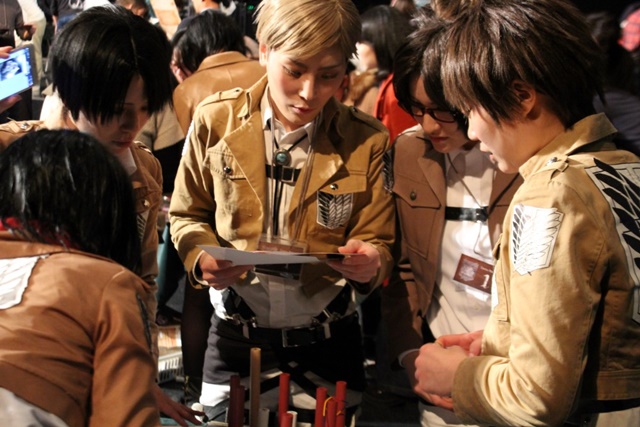 "Attack on Titan x Real Escape Game The Final Season: Escape from The Five Titans" schedule:
February 25 – April 25, 2021: Tokyo Mystery Circus (B1F) Himisukichi Lab (Main Hall)
March 25 – April 25 / June 30 – July 25, 2021: Nazo Complex Nagoya
May 13 – June 27, 2021: Osaka Himitsukichi Scrap
July 2 – August 1, 2021: Ajito of Scrap Sapporo
April 29 – June 13, 2021: Ajito of Scrap Sendai
April 29 – May 30, 2021 Ajito of Scrap Okayama
April 29 – May 5, 2021: Nishitestu Hall in Fukuoka
/#進撃脱出 最新作✨
全国7都市にて開催決定!
\#リアル脱出ゲーム × #進撃の巨人
『5つの巨人からの脱出』が来年2/25より開催????

あなた自身が調査兵団となり、5つの巨人に立ち向かえ????

「進撃の巨人」の物語を、会場で体感せよ????

イベント公式サイト▼https://t.co/2rgruYqmSS#shingeki pic.twitter.com/GyCkyypC0X

— リアル脱出ゲーム【公式】 (@realdgame) December 9, 2020
---
Source: SCRAP press release
©Hajime Isayama, Kodansha/"Attack on Titan" The Final Season Production Committee

Latest in Anime News by Crunchyroll!